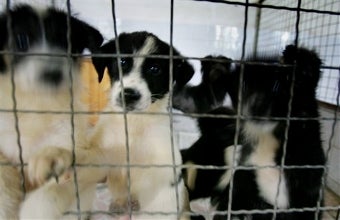 This week, both the New York Times and the Washington Post have articles on women devoted to pet rescue. One's a charming story about fluffy kittens and a Beaux-Arts apartment. The other's incredibly depressing.
Dawn Thompson, of Dawn's Canine Rescue in upstate New York, "spends about $16,000 a year of her $24,000 salary on veterinarian bills, licensing costs and dog food, among other expenses," says the Post. When she began the rescue 19 years ago, she planned to take in 8-10 dogs at a time. When the reporters visited, she had 37 dogs, 14 puppies, and 17 cats. Since the recession began, more and more people have been giving up pets they can't afford, sometimes just leaving them in Thompson's yard for her to find. She doesn't have a heart to declare the inn full — nor does she have the money and energy to keep on like this.
Tammy Cross, on the other hand, who's profiled in the NYT's Real Estate section, has a fabulous, rent-controlled apartment and a team of volunteers to help take care of the 6-18 kittens she's fostering at any given time. She seems to have little in common with Dawn Thompson except a love of needy animals and the ability to shock reporters with the cleanliness of her home. Cross has recently completed nursing school and is concerned that the new paint job on her walls is more salmon than coral. Thompson is going broke and couldn't accompany her husband to the hospital after he was stung by bees recently, because someone had to stay behind and take care of the dogs.
It's tempting to ask why Thompson doesn't just put a cap on the number of animals she'll accept at one time — but then, if you can imagine yourself doing animal rescue at all, you can imagine how heart-wrenching it would be to say no, knowing that euthansia is the likely alternative. At some point, it seems, you must refuse. But how? Thompson still hasn't been able to answer that. "You can't with all that's going on in the world today," she says. "I mean, I could, but how many would die?"
Cross's story is much more typical of how we usually see pet rescue presented: as noble, fun, enjoyably dirty work done by slightly nutty, big-hearted people. But recession or no recession, it's good to remember that a lot of animal rescues always look more like Thompson's operation than Cross's. I bristle a bit at the implied judgment of people who abandoned dogs because of the economy — "Dogs that had been cherished suddenly became a burden, disposable" — as I sincerely doubt anyone forced to choose between feeding their family and feeding their dogs is sanguine about the decision. But it's absolutely true that every day, people buy or adopt animals without fully considering what caring for them will entail. Every day, people neglect to spay or neuter animals they never intend to breed. And every day, pets are abandoned, with their best hope being that someone like Dawn Thompson will make room for one more — regardless of the financial, emotional, or psychological cost. I hope for the sake of their sanity that she and her husband will find a way to cut themselves some slack and put a manageable limit on their rescue work, but it's so sad that they need to make that decision, for a lot of reasons.

Meow Spoken Here [NY Times]
One Woman's Dogged Effort [Washington Post]