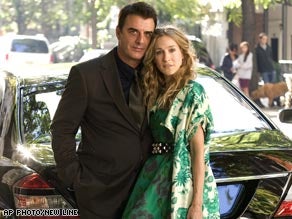 A scurrilous spoiler rumor about who dies in the Sex & The City movie is trickling out, and yesterday it made its midnight ride through our inbox. Read the (somewhat Season 2-esque) tip we by clicking the pic. If true, it would be by far the most wrenching made-up tragedy ever to visit the misfortune-plagued fake lives of those Joads of the millennial New York City man famine, the Sex & The City cast.
Ladies,

The sexy fuck head I hook up with who happens to work in the movie industry got word today of who dies in the SatC movie.....

....I don't have any details on how or when or how he even KNOWS but I'm trusting it to be true and I wanted to pass the news along just in case ya'll can pull some research together and get the facts.

Cover your eyes:

Big dies. Big dies of cancer. Probably, from all the cigars.

Fuck head just called me, I picked up the phone, and he spat out the details and hung up. I don't think I'm going to fuck him anymore.

There you go. The secret of the year....I mean, it was kind of obvi, but whatevs.

Ok bye!
Sigh.