Good news: Democrats, mindful of the despair of the base, plan to take up the Don't Ask Don't Tell repeal in the Senate after all. And Obama is getting involved, pushing the Senate not to wimp out. Will it work?
Yesterday night, Harry Reid announced that contrary to reports that Carl Levin was going to capitulate to John McCain and take the repeal language out of the defense funding bill, he was going to push to have both repeal and the Dream Act stay. They'll be debated the week after Thanksgiving, and the only hope of passing, according to ABC News' The Note, is getting moderate Republicans like Susan Collins, Olympia Snowe, Dick Lugar, and George Voinovich to vote yes. They may do so if they're allowed to stuff a lot of amendments and have a long floor debate, which means expending both time and political capital.
But after being criticized for being for repeal in words alone, the White House is also expending some time and capital on this. President Obama held a second strategy session with gay rights activists, and according to Politico, called Carl Levin and told him not to back down. Finally!
Meanwhile, here's a fresh reminder of just how damaging legislated discrimination can be. Daniel Redman and Ilona Turner report for the Nation's website that Don't Ask Don't Tell doesn't just mean you can't talk about your sexual orientation while performing your military duties — it also encompasses every aspect of your life, including divorce proceedings. For example, in 2008, an abusive man whose wife had left him for a female Coast Guard colleague outed them to their commanding officers in a jealous rage, breaking into their computer for proof. "He said I took everything from him," the ex-wife says, "so he wanted to take everything from me, including my job."
Thanks to Don't Ask Don't Tell, he had the power to do so. Worse, even without situations of abuse, just filing court papers that indicate one's sexual orientation, or registering as domestic partners, can count as "telling." It's yet another indication of how overdue the policy's repeal is.
G/O Media may get a commission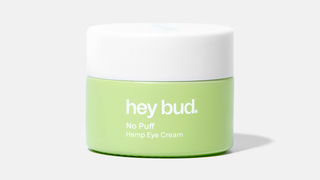 15% off
Hey Bud - No Puff Hemp Eye Cream
Obama Calls Levin To Urge Lame Duck Don't Ask Don't Tell Repeal [Politico]
Senate To Take Another Shot At Don't Ask, Don't Tell [ABC News]
Don't Ask, Don't Tell-Anyone, Anywhere [The Nation]