Not that anyone here is looking to get sex advice from Fox News Sexpert Yvonne Fulbright, but some people probably do so I figured someone needed to respond to her article 8 Signs Your Partner is Addicted to Porn, which is actually more like "Universal Signs There Are Problems In Your Relationship" rather than an actual addiction — which, if you accuse him of having, you're not likely to really get a productive response because you're already not communicating if these things are going on. But, join me after the jump as I deconstruct her unhelpful advice that is mostly based on porn-shaming and the people who do it and less on actual protocols for identifying addictive behavior.
So, here are her eight signs:
Your partner is not as social as he used to be.
Your partner lacks interest in sex or is sexually unresponsive.
Your partner is being uncharacteristically demanding or rough during sex.
Your partner does not seem "present."
Your partner has started to nit-pick your appearance.
You feel like you're no longer getting straight answers from your lover.
Your partner is practically wed to the Internet.
You've noticed a change in your partner's demeanor.
Great, well, welcome to the world of a bad relationship. Numbers 1, 2, 4, 5, 6 and 8 are stereotypical signs also of someone who is unhappy in a relationship, having and affair, thinking of having an affair or simply creating emotional distance for whatever reason. Spending a lot of time on the computer could be a porn addiction, or it could equally easily be him, say, communicating with his other romantic interests — for instance, in the 2 months before I caught a long-ago ex posting personal ads on the Internet, his computer time spiked because he was obsessively checking his online profile and IMing potential dates and looking at profiles, not because he was downloading porn (though he was doing that, too, and obviously that was the least of our problems and not representative of an addiction).
Look, people like porn. Some people like it more than others. Some people masturbate to fantasies in their head and some people masturbate to porn and as long as neither one is significantly interfering with any aspect of your life then it doesn't really qualify as an addiction. Normal people don't look at porn or masturbate to compete with their sex life. The moment that it becomes more important than your actual sex life, than your lover or your partner, the second you can't achieve orgasm without your porn of choice in your face or you forego (good) sex to masturbate to porn, the second you start plunking dollar after dollar down to access this or that webcam or some specific actress's site and you feel yourself attached to someone you don't even know and will never meet, yeah, that's heading into addiction territory. But some images on a hard drive, or an interest in viewing it is not an addiction.
A couple of friends-of-friends have actually struggled with porn addiction. One spent tens of thousands of dollars and drove himself and his family into bankruptcy. Another got to the point where he was consistently turning down sex with his hot wife in favor of masturbating to straight vanilla porn. Both required therapy (and one required a strategically placed mirror by his computer) to start to deal with their lives again, because their interest in pornography turned into a need for it that interfered with their relationships and their lives writ large.
G/O Media may get a commission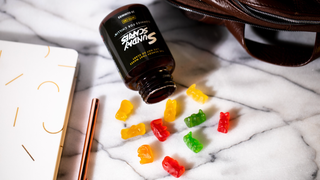 10mg CBD Gummies (22-Count)
So, look, if your partner is not communicating, refusing sex, experiencing personality changes and spending a lot of time on the computer and/or wanking to porn, the problem you need to focus on is not the porn. It's the lack of communication, the deliberate or even subconscious creation of emotional distance and the lack of honesty. By attacking the porn, you'll be inviting the other person to become defensive and allowing both of you to ignore the actual issues in your relationship that are much sadder and more difficult to deal with.
But, hey, it's your relationship and so if you want to believe your partner's pornographic taste is totes a reflection on you and if that partner just stops masturbating, then everything will be sunshine and rainbows and you'll live happily ever after, the end, go ahead. I know a good lawyer that will help you with your eventual divorce, and a great house cleaner you will help get the stains out from the underside of your computer desk.
FOXSexpert: 8 Signs Your Partner is Addicted to Porn [Fox News]