Very Specific Playlists is a weekly feature in which Jezebel staffers make very specific Spotify playlists based on their weird proclivities. Game of Thrones spoilers below!

Preparing onself for a new season of Game of Thrones is a potentially taxing endeavor, particularly at this juncture: we've potentially, very likely lost Jon Snow for good; Arya Stark is maybe blind in a cave populated by a bunch of skinned faces; Daenerys Targaryen has maybe been kidnapped by a band of pissed-off Dothraki people; Sansa Stark and Theon Greyjoy just jumped off the roof of a freakin' castle and, perhaps worst of all for the psyche, Tyrion Lannister is forced to sit around semi-boring but mutinous Meereen and try to rule while stupid Daario and a Greyscale-afflicted Jorah run off into the wilderness to find Khaleesi before Jorah turns into a murderous rock zombie.
A shitshow! Add to that the show's typical violent world of murder and rape and torture and fucking and drinking whatever wine can be found, and the whole ordeal requires easing oneself into the right mind frame.
With this in mind, the Jezebel staff has made a playlist of songs about killing and fucking so that we may all desensitize ourselves to Westeros-necessary savagery in advance of the Season 6 premiere on Sunday. Below are our choices and reasoning for inclusion; find the full playlist embedded at the bottom of this post. Valar Morghulis!
1. Rage Against the Machine, "How Could I Just Kill a Man"
I would not call myself a Rage "fan" but their cover of Cypress Hill's first single really got me in the mood to headbang as a teen. I like to imagine that were GOT set in a different time, Stansa Stark would just put her headphones on and seethe inwardly while the fuck-ups around her did what they do best. -Kate Dries
G/O Media may get a commission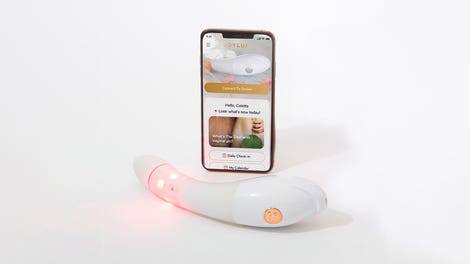 $50 Off
Joylux vFit Gold Device
2. Mark Lanegan, "One Way Street"
This is a highly sexy song, which is surprising, because the lyrics a) Don't really make sense and b) Actually, now that I look at them, are more about addiction than anything: "When I'm dressed in white, send roses to me/ I drink so much sour whiskey I can hardly see..." Which is also relevant to Game of Thrones. -Anna Merlan
3. Carcass, "Rot and Roll"
From Heartwork, one of the best metal albums ever, comes this surprisingly chipper jam about the stench of decay. Appropriate for Game of Thrones since everyone on that show, alive or dead, must surely smell like ass. -A.M.
4. Hailee Steinfeld, "You're Such A"
If and when Arya's PTSD ever catches up to her and she goes into a month-long rage blackout and murders half of Westeros, her brain, I like to imagine, will be empty save for the calm fury of fellow self-actualized teen Hailee Steinfeld. -Ellie Shechet
5. Lykke Li, "Little Bit"
I had this song on a "sex playlist" that I made while feeling optimistic during a seminar like 6 years ago in college; I titled the playlist "ajkljdsaofe" for secrecy and then immediately forgot about it. "Little Bit" has a kind of dark sensuality to it that I'm finding appropriate for the occasion, maybe for some weird threesome in Dorne that ends with everyone dead from poisoning. -E.S.
6. LE YOUTH f. Tay Beckham, "Boomerang"
The sex on Game of Thrones has never been anywhere near positive or upbeat enough to accompany this song, and in real life I think you would need to turn the volume way down for this to not be kind of confusing beat-wise, but whatever, it's bouncy and joyful, something GOT could use. -E.S.
7. Misfits, "Last Caress"
Features both killin' and enacting of sexual violence, GOT's two fave things. -A.M.
8. Yeah Yeah Yeahs, "Man"
The songs starts with the words "I got a man who makes me want to kill" the next verse with "I got a man who makes me want to die," and the whole thing is tied together with "We're all going to burn in hell." It makes all those options sound pretty good. When it plays I always imagine myself kicking in the door of a saloon bar in a denim skirt, then humping the jukebox, but I can also picture it playing over a battle scene. Maybe some hot warrior boyz could make out at the end? -Aimée Lutkin
9. Arcade Fire, "My Body Is a Cage"
In Game of Thrones, it often feels as if the characters fuck to beat back the tragedy of their circumstances (think Jon Snow and Ygritte—RIP—in their sex cave). This song's funereal overtone, together with its steady pulse, makes it the perfect accompaniment to any romp undertaken for the primary purpose of forgetting that George R. R. Martin has condemned you to a life of misery. -Rachel Vorona Cote
10. Garbage, "You Look So Fine"
The character of Daenerys Targaryen bothers me for a number of reasons, but she became a little bit my hero in the episode when she poured herself a drink and told Daario to get naked. I imagine that in another time and space where Dany had access to 21st century music, she would put this song on the playlist she listened to whenever she was about to order some pretty man to do her bidding. -RVC
11. Duran Duran, "Hungry Like the Wolf"
It's a little on the nose because the Starks are wolves and they're hungry...for revenge... and they're horny. -Madeleine Davies
12. Perfume Genius, "Queen"
"Don't you know your queen?" Cersei will scream as she bathes in the blood of the subjects who humiliated her with that nightmare walk of shame in Season 5. -MD
13. Echo & the Bunnymen, "The Killing Moon"
It mentions moons, stars, fate, fucking, and killing. If that doesn't sum up Dany and Khal Drogo's romance, I don't know what does. - MD
14. X-Ray Spex, "Oh Bondage, Up Yours!"
Theon/Reek would love this song. -MD
14. Tegan and Sara, "Walking With a Ghost"
Because of White Walkers and Wights, obviously. -JE Reich
15. Autre Ne Veut, "Ego Free Sex Free"
I feel like this is the theme song for every character on this show. The lyrics are "I want to be the knight in armor/when you say this is forever" Boom, Jorah, every Stark, every Dothraki, Brienne of Tarth, every idiot who loves Melisandre. And later, "Love riding your sexy body," Boom, dragons. -Joanna Rothkopf
16. John Talabot, "Oro y Sangre"
Gold and blood, very GoT appropriate. -J.R.
17. 4Minute, "Hate"
I've been obsessed with this song since Julianne posted it in February. Think of all the revenge killing and town burning that could be done to this song. I'm so pumped up!!!!! -J.R.
18. Rihanna, "Man Down"
Mostly I just feel like this is a super underrated song of hers. Plus, in the video, it's about her shooting some handsy ass dude, which is basically my dream. -Kara Brown

19. Miguel, "The Valley"
I've also only seen about five minutes of the first episode of Game of Thrones but this song sounds like it could either be used for sex, BDSM or as a backdrop to slowly torturing someone. -Clover Hope
20. Lil Kim, "Queen Bitch"
I have never seen this show before but my sense of Khaleesi is that she could relate to the lyric "got buffoons eatin' my pussy while I watch cartoons." -Emma Carmichael
21. C Murder f. Snoop Dogg and Magic, "Down for My Niggaz"
This is the first song that comes to mind because everyone on Game of Thrones is dedicated to their family/team and absolutely no one else. If you aren't a Lannister, the Lannisters are trying to kill you and the same goes for every other faction on this HBO drama. Who knew this NOLA anthem had so much in common with a fantasy series featuring dragons? -Hillary Crosley
22. Sheena Easton, "Sugar Walls"
Game of Thrones has dragons but not record players, which is one reason I like sci fi better than fantasy—you're making shit up, why not tailor the world to your convenience?!—but if it did, this incredible song would be blasting in each of Littlefinger's brothels, comely nude sex workers gesturing to dirty old dudes on the street to come on in for a good time. Actually, you could imagine Littlefinger making a corny local advert using taglines from this track: "Come spend the night inside our sugar walls!!!" I'll save that for my cyberpunk fan fic. -Julianne Escobedo Shepherd
23. Shellac, "Prayer to God"
This is a rather scary but great song about a man begging God to kill his ex and her lover, which is about right for what Tyrion ended up doing to his pops and Shae. Steve Albini is the vocalist, which adds to the terror factor! -JES
24. Katie Wilson, "Jon Snow"
Conceptually, this song the aspect of information-era music I hate most vehemently (random covers; jokey pop interpolations; Meghan Trainor, whose terrible "No" provides the sonic palette for "Jon Snow"). However, I relate so much to Katie Wilson's lyrics EMOTIONALLY that I am feeling her on a profound level as she explores her feelings about the precarious nature of Jon Snow's existence as we glide into this season. "I will not let him go," she says defiantly. "I won't take no, my favorite Crow," before launching into the clever bridge: "the Night is unwatchable, unwatchable." I hate this so much, and I relate to this so much. -JES
25. Clipse f. Bilal & Pharrell, "Nightmares"
Nothing's guaranteed, and in the Game of Thrones universe, you're never just "p-noid," as Bilal asserts here. To mix a rap metaphor and quote Fat Joe, every character on this season better "keep one eye open like Bushwick Bill." -JES
---
Illustration by Sam Woolley