There are a few things I find Spotify useful for, but the number one thing it's good for is for listening to music that I can barely admit to myself I enjoy. For this, a playlist I have subtly titled "you know" on my account has become synonymous with "you're listening to these songs because it's the middle of the day, you're trying to get amped to go to work, your roommates aren't home, and you want to jam to 'Out Of Town Girl' by Justin Bieber."
I'm not totally ashamed of all of the music on this playlist. But they are mostly high-energy pop songs, which I would normally consider just a portion of what I listen to, ones that I return to again and again as I survey the sad state of my closet and hope that I don't go into work and receive lots of "You look tired"s. Certain songs that get me moving and grooving, ready to seize the day and all that. Are they random as hell? Yes. Is this playlist without context embarrassing, especially considering the numerous years I spent studying jazz piano? Yes. Do I care? Well, now that I'm going public with this information and not listening to it in the privacy of my own home, maybe.
1. "Timber" by Pitbull featuring Kesha
Were I to instead write a post about the songs I listen to at the gym or when I'm walking down the street or DJing a party or just loving my life, this track would also appear because it is, in my humble opinion, one of the best pop tunes of the last few years. What a cultural potpourri, with the harmonica coming out of left field, Pitbull's rapping and Kesha's dirty pop sound. Really makes you feel like you're living in 2015, when anything's possible.
2. "Truffle Butter" by Nicki Minaj feat. Drake and Lil Wayne
Some argue that the best part of this song is the beat, which is a sample of Maya Jane Coles's "What They Say." Others say it's the dark, dark path listening to it takes you on, as you ponder the true meaning of truffle butter (The number of times I've heard someone since this song started getting radio play say, "Do you know what truffle butter means?" is bordering on the double-digits). I say: this is my favorite song off The Pinkprint and it never fails to make me feel like if I get through this day I'll be able to dance somewhere dark by the end of it.
G/O Media may get a commission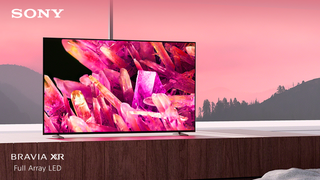 $400 off
Sony 55 Inch 4K Ultra HD TV X90K Series
3. "Sure Thing - Zouk Remix" by Miguel
I've barely stopped listening to Miguel's Kaleidoscope Dream since it was released what, three years ago now? And while some of those tracks have lost their verve in that way that songs can when you "figure them out," they've also gotten some great remixes, like this random one I found... idk when, maybe when I was trying to get my shit together to leave my apartment.
4. "Heart Attack" by Demi Lovato
I never much cared for Demi Lovato when she was too close to her Disney days (which probably isn't much the fault of her but The Man, as the same can be said of Miley or Selena), but this hyperspeed, almost manic love song does it for me. Lyrics like, "When I don't care, I can play 'em like a Ken doll/Won't wash my hair, then make 'em bounce like a basketball" feel particularly applicable on days I have in fact not washed my hair but am still going into an office inhabited by people nonetheless.
5. "Grown Woman" by Kelly Rowland
While Beyoncé has her own "Grown Woman," this is my favorite; you can almost see Kelly's face talk-singing these lyrics as you listen to it, which speak pretty obviously to the vibe I'm trying to put on when I get my shit together to face the world: "I'm such a grown ass woman/I don't got the time to play high school." It's true! I am not in high school anymore. I have a real job and I should try to not forget it.
6. "Echelon (It's My Way)" by Angel Haze
I've written before about this track, but it makes you want to do a body roll right into summertime, no matter what the season.
7. "She's A Bad Mama Jama (She's Built, She's Stacked)" by Carl Carlton
What a title for such a song! Several months ago someone put this on in the office, and it was a welcome respite from the usual manic switching between sad sack old man music and Julianne's excellent picks. It actually made me happy to be typing and tabbing along in the musical hellhole that is Gawker Media. (Jk I love life, my coworkers and the music they play.)
8. "Out Of Town Girl" by Justin Bieber
This previously mentioned Bieber track is off his album Believe. While I think Journals [Ed. Note: I almost called this Diaries before realizing that that's just what I wished he'd called this album] is a better pop record as a whole, "Out Of Town Girl" is a ridiculous song that more people need to listen to. "Hey baby girl I love your accent-cent-cent-cent/I think I like you more because your different-rent-rent-rent," Bieber actually croons. You can just imagine him out there, living his best life, as he cheats on Selena Gomez. Actually don't imagine that, unless you're trying to get amped for a day in the blog mines like I am.
9. "R U Crazy" by Conor Maynard
Another basically pre-teen white British boy doing R&B music – yes, that is Conor Maynard. But the beat on this track is so sick I don't care, as is the almost choral intro. Maynard's voice slams between angelic highs and dark lows, spinning in range and speed so much you almost miss his harsh lyrics, brah, as he bemoans a relationship gone wrong. Fuck the world, I say, as I stomp these New York streets, for the Earth is my scorned lover and I am the one that got away.
10. "This Is How We Roll Remix feat. Jason Derulo and Luke Bryan" by Florida Georgia Line
Some might consider this song blasphemous, as it's a track by one of the biggest bro-country bands today featuring noted idiot Jason Derulo. To me, it speaks to the beautiful state of music today, when country and R&B meet to celebrate, as Derulo sings, a "mixtape [that's] got a little Hank, little Drake/A little something bumping, thump, thumping on the wheel ride." After all, isn't that what we all want, a little something bumping, thump, thump thumpp? At midday, at night, when I'm alone, when I'm with friends – that's what I want.
Listen to the full playlist here.
Image via Getty
---
Contact the author at dries@jezebel.com.