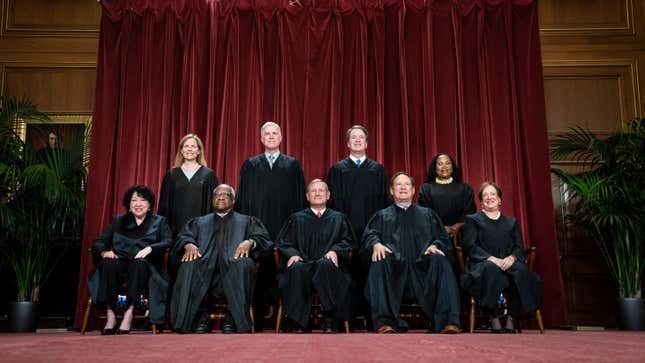 The Supreme Court's popularity is in the toilet. For months now, public support for the increasingly polarized institution has been tanking—likely hastened by its unprecedented ruling to overturn Roe v. Wade, the first time the court's ever revoked a right it'd previously granted—and, for the first time, a majority of Americans want to see the court expanded. Yet, in the face of these stats, many of the justices don't seem chastened at all!
All those polls were conducted before the rash of recent reporting that's uncovered various ethics scandals involving Justices Clarence Thomas, Neil Gorsuch, and John Roberts and their alleged financial conflicts of interest. The investigations underscored the fact that it's the justices' call on whether they recuse themselves from certain cases, and there's no way to appeal a failure to recuse. Even Sen. Judiciary Chair Dick Durbin (D.Ill)—with whom I have beef—has come out swinging, saying that "the highest court in the land shouldn't have the lowest standard of ethics in the federal government." (That's good stuff, Senator, now issue some subpoenas.)

So why are lawmakers and advocates talking about court reform? Well, it goes back years with some of these folks. Let's roll the tapes!