If we had a dime for every time someone said, "What the fuck?" in regards to any member of the Jackson family, we could probably afford to buy the Elephant Man's bones. But the family has always stuck together through the highs and lows, no matter how bizarre, over the past 40 years — from Janet's secret marriages to Randy and Jermaine sharing a baby mama to Michael's sex-abuse allegations, the clan has remained tight.* So it's surprising that they're experiencing such a public war, replete with a child custody battle, a missing person report, elder-abuse accusations, murder conspiracy allegations, strongly-worded letters, slaps, headlocks, surveillance video confrontations, signature retractions, a much-disputed will, and, of course, Twitter statements. The family that was once unified is now fractured. And in keeping with tradition, it's all very, very weird.
Sooo, how'd this all happen?
February 23

Michael Jackson's estate had been near bankruptcy at the time of the singer's death, but the executors have turned things around — curbing spending and increasing profits from licensing and royalties — and, three years later, the estate is valued at nearly $1 billion. As such, a judge allows the executors of Michael Jackson's estate to put $30 million in the Jackson Family Trust for the benefit of Katherine and Michael's kids.
The judge also gives the executors the green light to sell the Hayvenhurst mansion (owned by Michael) that has been the Jackson family compound for 40 years. Matriarch Katherine Jackson has been its chief resident, but it has also served as the home for several of her children, grandchildren, and grandchildren's mothers throughout the years. After Michael's death, Katherine, Paris, Prince, and Blanket moved into a rented home in Calabasas, alternately giving the excuse that the Hayvenhurst home was undergoing renovations or, as Katherine told Oprah, that it simply had too many memories of Michael.
A theory is that the move is meant to sever ties between Michael's estate and the outreached hands of extended family members. Last year, Michael's kids were put in danger after an incident with their cousins caused Child Protective Services to be called. Alejandra Jackson—who has two children by Randy and two children by Jermaine—had been living on the compound for 20 years. After the incident, she was asked to leave, but refused to do so, even taking the matter to court. Observers say that she felt entitled to stay in Hayvenhurst as compensation for never receiving child support from Jermaine.
G/O Media may get a commission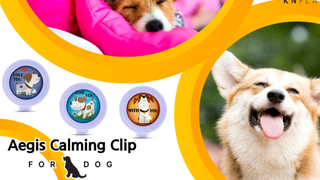 20% off
Aegis Calming Clip for Dogs
April

The L.A. County Sheriff's Department begins an unpublicized investigation into elder abuse allegations regarding Katherine, reported by "a Jackson family associate." Katherine denies any abuse.
July 14

Dr. Allan Metzger—the same man who testified as an expert witness for the defense of Dr. Conrad Murray (Michael's doctor, who was later convicted on charges of involuntary manslaughter) defense last year—arrives at the Jackson family home in Calabasas to examine 82-year-old Katherine Jackson. He tells Katherine, who was planning a trip to Albuquerque, New Mexico to see her sons in concert on their "Unity" tour, that it would be better for her to fly there than to be driven in an RV by her nephew Trent. (Katherine's lawyer would later claim that Metzger was there "under false pretenses" by saying that he was sent by Katherine's primary care physician.)
July 15

Katherine leaves on a plane with her daughter Rebbie but never arrives in Albuquerque. She never makes contact with Paris, Prince, or Blanket.
July 18

Michael's siblings, Rebbie, Randy, Tito, Jermaine, and Janet Jackson (inexplicably the remaining three siblings, Marlon, La Toya, and Jackie were not involved) publicly release a letter they had written to John Branca and John McClain, the executors of Michael's estate, requesting their resignation and accusing them of greed, manipulation, criminal misconduct, involvement in the coverup of a conspiracy surrounding the singer's death, and forging his will.
Since the passing of Michael, our beloved brother, you have failed to perform your duties as executors of his estate, but what you have not failed at is taking advantage of a grieving mother, father and a grieving family…The shock of Micheal's sudden unexpected passing was overwhelming to our family, to say the least. At the time, we couldn't possibly fathom what is so obvious to us now: that the will, without question, is Fake, Flawed and Fraudulent.

Amongst many other inconsistencies in the will, there is also a conflict around Michael's location on the day he supposedly signed the will, July 7, 2002. According to what is witnessed in the document, it is impossible and illogical that he could have been in two places at one time. We have evidence that undoubtedly supports and proves that Michael was absolutely not in Los Angeles, California, on the date of his signature reflected in the will at-hand.
On that issue, the siblings have a point. On that day in history, Michael Jackson was at a press conference in New York City with Al Sharpton, accusing Tommy Mattola of being "a mean, a racist, and very, very, very devilish."
The letter also states that Katherine had suffered a "mini-stroke." Paris takes to Twitter to refute the claim, saying, "i will defend my beloved family member with all i have, even if it means from other family members."
Later that night, Jermaine goes on Twitter to clarify the family's statement about Katherine's health, "The truth is that Mother DID suffer a mini-stroke some months ago. She is fine now, but the timeline doesn't alter the fact it happened."
July 20

TMZ reports that Randy and Jermaine have "hatched a sinister plot involving Katherine" to get Michael's money. According to "sources connected with the estate," Randy and Jermaine want Katherine to appear infirm so that she would need a conservatorship, which they would oversee. This would allow them access to the $70,000 per month that Katherine is paid by the estate.
Later that day, Jermaine released a response:
I note that this 'story' comes from 'sources close to the Estate'. It, therefore, does not surprise me that such a wildly false claim is being invented, presumably to deflect attention away from this family's very real concerns about the Estate…This claim is as far-fetched as it is untrue, but such are the anti-Jackson falsehoods we have come to expect from 'sources close to the Estate.' I will reiterate that this family's first and foremost concern is our mother's health, welfare and well-being. Nothing else.
Nobody really notices Jermaine's statement; the story was buried by the Dark Knight shooting in Aurora, Colorado.
July 21

Paris, Prince, and Blanket haven't heard from Katherine in a week. Trent Jackson, Katherine's nephew (on her husband Joe's side) and Michael's cousin, files a missing person report with the L.A. County Sheriff's Department.
Paris confirms the news by tweeting, "yes, my grandmother is missing. i haven't spoken with her in a week i want her home now."
July 22

Conflicting reports begin to emerge over whether or not Katherine is actually missing. Everyone from the police, to lawyers, to family members begin releasing statements.
L.A. County Sheriff's Department:
Katherine Jackson is reportedly with family members. Late Saturday night, a different family member reported that he was unable to speak with her and is concerned for her well being. Deputies are continuing to make efforts to reach her and ask that she contact the Malibu / Lost Hills Sheriff's Station of the Los Angeles County Sheriff's Department.
Katherine's lawyer:
Concerned family members, particularly Michael's children, have since made ongoing pleas to those believed to have knowledge of her location for information regarding her whereabouts. When Michael's children last saw their grandmother on July 15, 2012, she was in great health physically as well as mentally. Prince, Paris, and Blanket are the light of Katherine Jackson's life, as she is to those children. Out of concern for Mrs. Jackson's well-being and in an effort to ensure her being safely reunited with her grandchildren as soon as possible, a report was filed on Saturday with the Sheriff's Department who will be investigating this matter.
Jermaine:
No-one is being "blocked" from speaking with Mother. She is merely an 82-year-old woman following doctor's orders to rest-up and de-stress, away from phones and computers. Everyone has been well aware of this within the family, but I would like to reiterate my reassurance to the outside world that Mother is fine.
Later that evening, Katherine reaches out to police to let them know that she's alright. It's reported that she's in Arizona with her daughter Rebbie.
July 23

A photo is released of Katherine at a spa playing Uno; reportedly her children took her there to escape the drama unfolding around the estate in California.
Nevertheless, Paris tweets, "8 days and counting . something is really off , this isn't like her at all .. i wanna talk directly to my grandmother!!<|3"
Later, cops are called to the family's Calabasas home after a confrontation erupted involving Janet, Jermaine, Randy, Michael's children, and Katherine's nephew Trent.
Security footage shows a series of SUVs pulling onto the Jackson family property, one carrying Michael's children, the other carrying Janet, Randy, and Jermaine. Prince greets his aunt and uncle and then walks into the house. Paris has a confrontation with Janet, who tries to snatch away the teenager's phone. Randy grabs Janet and instructs her to film footage with her own cellphone. Paris walks into the house.
TMZ reports that Janet yelled at Paris, "You're a spoiled little bitch!" And Paris fired back, "This is our house. Not the Jackson family house. Get the fuck out!" Trent allegedly put Randy in a headlock and punched Jermaine in the mouth.
Outside the home, a photograph was taken of Janet and Jermaine in "a heated exchange."
And then Paris attends her uncles' Unity Tour concert in L.A. and "dances the night away."
All in all, a productive day.
July 24

Tito decides that he no longer wants to be aligned with Janet, Jermaine, Randy and Rebbie, and releases a statement:
I completely retract my signature from the July 17th letter sent to the Executors of my brother Michael's estate and repudiate all the claims made against them. I don't want any part of that letter whatsoever.
Marlon, Tito, and Jackie appear for an emotional interview on The Insider, angry that they have not been able to make contact with their mother Katherine. A crying Marlon gets up and walks off camera twice.
That night, the feuding brothers come together, again, for another concert of their Unity Tour.
Paris tweets an apology about her recent attitude problem.
July 25
Randy calls into Good Morning America to explain his side of the case. He insists that this is not about money and makes the point that even if Michael's will is deemed invalid due to forgery, Michael's children will still automatically get everything, according to the law.
Tito's 34-year-old son TJ steps into the spotlight: He's awarded temporary guardianship over Michael's kids at an emergency hearing. (For reference, TJ was Kim Kardashian's first boyfriend and prom date.) If he ends up getting permanent guardianship, he'll get the $70,000 per month that Katherine was receiving.
Katherine Jackson reportedly places two phone calls to the Calabasas home in the middle of the night and sounds "drugged." She orders that the security team there be removed and replaced with Janet's security team. She also fires Trent and ordered that he vacate the property.
Randy takes to Twitter to refute the allegations that Katherine was drugged:
I only tweet when its serious.
Let me be very clear about the FACTS, the absolute TRUTH...
I was on the phone at 9pm in Los Angeles, with my sister Rebbie, when my mother FIRED Trent and Security
My mom told TJ that she was coming home tomorrow (which is today).
He asked for temporary guardianship & she said -"NO its not necessary, I'll be home tomorrow." He asked again, and she said "NO TJ"
I heard the conversation.
Trust me - the Executors are behind this. The "powers that be" use tabloid media to spin their lies and divide our family.
THIS IS NOT OVER.
Katherine tapes a segment at the spa in Arizona—with Janet, Jermaine, Rebbie, Rebbie's daughter, and, weirdly, the marketing director for the resort—for Nightline. In it, she reads a prepared statement, saying it's "very stupid" that anyone would believe she was kidnapped or held against her will. She's also pissed that her guardianship was stripped from her.
July 26

Katherine Jackson returns to the family's Calabasas home; Paris tweets, "grandma's here! #thankyougod <33"
Prince tweeted a screenshot of a group text message in which he demands to speak with his mother. His aunt Janet (perhaps not knowing how group texts work) replied all by accident, saying, "Don't let them pls." Prince, who had remained silent while his sister served as the family spokesperson, finally released a statement:
I have been holding off on backing up my sister and her tweets avidly because I was waiting for the time to reveal my side. As long as I can remember my dad had repeatedly warned me of certain people and their ways. Although I am happy my grandma was returned, after speaking with her I realized how misguided and how badly she was lied to. I'm really angry and hurt. The following image is of a group chat I had started to several family members. This group text message I had started was replied to but they didn't know that I could see the responses. For this whole time, they denied us contact to our grandmother.
TL;DR
Katherine Jackson (the children's permanent guardian) and her children Rebbie, Janet, Randy and Jermaine think the executors are shady.
Marlon, Jackie and Tito are mad at their four siblings for isolating Katherine.
Marlon and Jackie might also think the executors are shady. Tito used to think so, but he changed his mind.
Tito's son TJ told a judge that Katherine sounded drugged and was awarded temporary guardianship. He stands to get $70,000 a month if he's awarded permanent guardianship.
Michael's kids, meanwhile — Paris, Prince, and Blanket — have no idea anything's fishy with the executors and, from the looks of it, understand this mess even less than we do. They're just on their grandmother Katherine's side pretty much no matter what.
As of today, many questions — aside from the obvious what the fuck is going on here? — remain:
Janet: If this is about money, why is she involved? She has plenty of her own money.
Rebbie: She's the "normal" one. Married to the same man for 44 years, Rebbie—the eldest of the Jackson children—has kept the lowest profile in the family and was at one time in the running for becoming the primary guardian for Michael's kids. Does her involvement in this mess somehow give their side credibility?
Joe Jackson: The patriarch of the family is one of the most notorious stage fathers in history, treating his large brood as a series of paychecks. It isn't like him to remain silent. If this is about money, shouldn't he be buzzing around somewhere, instead of quietly doing whatever it is he does in Las Vegas?
La Toya: Where has she been!? Why is she the only sibling who hasn't spoken? Whose side is she on?
*Except for when La Toya held that 1993 press conference in Tel Aviv slamming Michael, but she was actually brainwashed by her then-husband Jack Gordon, so, much like her singing career, it didn't really count.