Sony Ericsson has finally figured out what women want in a cell phone! Its Jalou phone is shaped like a diamond and features a mirror, horoscope application, and pedometer to "see how far you have walked while out shopping."
Usually manufacturers just slap a coat of pink paint on when the marketing electronics to women. Sony Ericsson clearly put a lot more thought into its Jalou phone, which comes out later this year, but still managed to come up with one of the most insulting pieces of electronics on the market. According to the press release:
Sony Ericsson explored art, architecture and furniture trends whilst delving deep into the couture and fashion world to ensure Jalou encapsulates some of the hottest fashion trends which will emerge next year. Structured forms, intricate corners, hidden depths and jewel accents are set to be some of the hottest fashion trends in 2010... Jalou reflects these trends with its delicate facet-cut diamond shape design, clean and expressive lines and variety of different shine and matt finishes, that give depth to the handset.
Jalou is "encased in a beautiful facet-cut jewel form," just like the engagement ring we desperately want on our fingers. Apparently, the hot colors in 2010 will be Deep Amethyst, Aquamarine Blue and Onyx Black, but if you simply must have a pink one, there is a more expensive rose-colored Dolce & Gabbana edition (which comes with a silk jewelry bag). Plus, the phone is only 73mm long, which the press release explains this is "shorter than your favourite lipstick." (Sony realized that sometimes ladies get confused by math.)
Since Jalou "exudes style as well as substance," Sony Ericsson provides a list of the phone's features and how a stylish woman might use them. For example, you can use the 3.2 megapixel camera to "snap your favorite outfit and send it to your friends." There's a button that turns the entire screen into a mirror so you can "check your hair before a hot date," and the phone "automatically updates with zodiac signs," since all women are into flakey stuff like horoscopes. It's also the first Sony Ericsson phone to feature a BMI calculator and the Walk Mate step counter, "to help you stay in shape wherever you go."
G/O Media may get a commission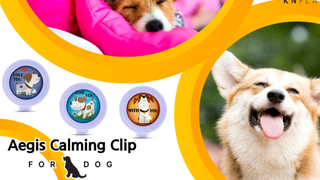 20% off
Aegis Calming Clip for Dogs
But as Mother Jones points out,
Vanity, body image, and horoscopes aren't the only stereotypes Sony Ericcson made sure cover. Catfights will also be all the rage in 2010. Jalou is derived from the french, jalouse meaning jealousy.
There's nothing wrong with designing an attractive phone (or even liking the color pink), but like Dell and Memorex, the folks at Sony Ericsson seem to assume that female consumers care mainly that the phone is cute. Certainly women aren't using their cell phones to make business calls, read news on their web browser, or download stock quotes like a man would.
As mentioned earlier, electronics companies are still designing products for women as a niche, as if we're a feeble-minded minority rather than half of all electronics consumers. The European Information Technology Observatory just reported that mobile phone users make up 2/3 of the world's population, so some women must have already figured out how to operate a cell phone. Maybe Sony Ericsson should have asked some of these ladies why they bought the wretched non-jewel shaped phones they're using now, rather than imagining how to make this newfangled device simple and pretty enough for a woman to use.
Communicate In Style With Jalou, The Irresistable Compact Fashion Phone From Sony Ericsson [Sony Ericsson]
Dolce&Gabbana Design Special Edition Jalou For Sony Ericsson [Sony Ericsson]
Diamond Shaped Phones Are Girls Best Friend [Mother Jones]
More Than Four Billion Mobile Phone Users Worldwide [EITO]
Earlier: Memorex Launches Electronics Line By Women For Morons
Dell Discovers Ladies Use Computers For More Than Diet Tips
Della Website Suggests Marketers Don't Consider Women Regular People