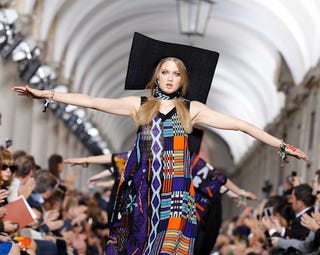 Missoni held its Spring show in an ancient Milanese university. So obviously the show involved performance artists and ridiculous, high-fashion takes on caps and gowns!
Yup, the iconic Missoni patterning was all there, but the color, busyness and wackiness were upped by a factor of 100.



From 70s influences...



...to the geometric...



...to the African-inspired, it was all shoehorned in; sometimes onto single garments!



The color blocks were at times Mondrian-esque, too, lest we forget a reference.



The models did not even attempt to not be worn by the cacophanous garments; they just covered their faces.



...or looked sad that they couldn't compete.



Of all the bright, whimsical shoes we've seen in Milan, these just may take the cake!



This may be the loudest garment in the world: like a convention of show-choirs, all singing at once.



In case you're wondering who would wear these clothes? Fashion icon Anna Piaggi, obvs!