After a crushing defeat in Indiana, the soggiest senator Ted Cruz announced that he would end his presidential campaign. The decision was no doubt a blow to the small pocket of Christian conservatives who had, above all odds, held out hope that this snarling bespawler would somehow trounce Donald Trump. But it was not as devastating to them, or to anyone, as it was to Carly Fiorina, who had—literally days before—dragged her ass out of bed to return to the campaign trail as Cruz's vice president.
The Washington Post reports that at seven days, her VP candidacy is the shortest in modern history—11 days shorter than the previous record holder Thomas Eagleton (George McGovern's short-lived VP who dropped out due Democratic leadership pressure after it learned he had been hospitalized for depression and had thrice undergone electroshock therapy). Fiorina's run was cut short by no fault of her own (probably), but instead by an overzealous candidate who declared a VP with basically no shot of winning the nomination. But boy, was it a humiliating run. Let's reminisce:
(Times are approximate.)
Wednesday, April 27, 2016
4:00 p.m. - Cruz declares Fiorina his running-mate
Cruz announced his pick at a rally in an Indianapolis, the day after he lost five states to Trump, calling her "brilliant and capable," and a businesswoman who has "shattered glass ceilings."
Like 4:15 p.m. - Fiorina accepts, sings
Like 4:20 p.m. - This horrible thing happens
G/O Media may get a commission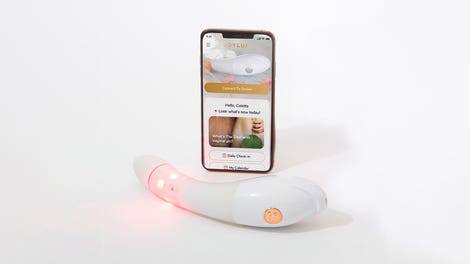 $50 Off
Joylux vFit Gold Device
6:30 p.m. - Fiorina appears on MSNBC, takes back all the bad shit she's said about Cruz
"One of the things I've heard you say on the campaign trail," asked NBC News' Hallie Jackson, "is that Ted Cruz is like any other politician... Today you said he is who he says he is. So were you wrong?"
"Yeah," Fiorina responded, "and that's why I voted for him in the voting booth."
9 p.m. - Fiorina calls for Kasich to drop out, reneging on one-time Kasich-Cruz alliance
"There is somebody in this race who oughtta get out—his name is John Kasich," she said.
Thursday, April 28, 2016
12:47 p.m. - This gear is advertised
Fiorina has 1,000 Cruz-Fiorina water bottles in the trunk of her Subaru if you want one.
3:32 p.m. - This ad is released
The gang is gearing up.
8:00 p.m. - Fiorina and Cruz appear at a rally in South Bend, Indiana
"I have never seen this man rattled, and running for president is high pressure," she said of Cruz. "I have never seen this man lose his temper. I have never seen this man waiver from the fight that he has in front of him or from his convictions."
Friday, April 29, 2016
10:30 a.m. - Fiorina appears on a podcast
10:54 a.m. - Fiorina criticizes Trump for bragging about Tyson endorsement
"Sorry, I don't consider a convicted rapist a tough guy," Fiorina said, according to Politico. "And I think it says a lot about Donald Trump's campaign and his character that he is standing up and cheering for an endorsement by Mike Tyson."
Later - She appears on a radio show
9:31 p.m. - This exchange happens
10 p.m. - Cruz and Fiorina appear on Hannity on Fox News
Saturday, April 30, 2016
Evening - Fiorina speaks at the California Republican Party convention, asks, "Why did I run?"
"I suspended my presidential campaign because there was no path to victory," she said, and then mentioned that she was startled when she saw her name on the presidential ballot in Virginia. "But then I thought, why did I run?"
"I ran because we need a fighter. I ran because we needed a constitutional conservative, and I checked the box for Ted Cruz."
At the same dinner, she condemned protections for the vulnerable Delta smelt (a fish) as products of the "tyranny of the left, the tyranny of environmentalists."
11:45 p.m. - Fiorina says Trump is prematurely declaring victory
"The 30-yard-line ain't a touchdown."
Sunday, May 1, 2016
Sometime in the afternoon - Fiorina calls Cruz the next president of the United States, immediately falls off a stage
Cruz does not respond.
Evening - Fiorina and Heidi Cruz visit Almost Home Restaurant and Swizzle Stick Bar
At the event, she repeats the line about Tyson, which she has already said multiple times in the past day.
Monday, May 2, 2016
1:50 p.m. - Cruz spoxx confirms Fiorina is uninjured from fall
5:00 p.m. - Trump brings up Fiorina's fall

At a rally in Carmel, Indiana, Trump rubbed salt in Fiorina's perpetual wound: "Carly's perfectly nice," he said, according to Politico. "By the way, she fell off the stage the other day. Did anybody see that? And Cruz didn't do anything. Even I would have helped her, OK?"
"They just showed it to me coming in," he continued. "I said, 'Wow, that's really cruel.' She fell off—she just went down. She went down a long way, right?"
Tuesday, May 3, 2016
12:08 p.m. - A poll finds that Fiorina's addition to the ticket has done nothing to help Cruz
3:45 p.m. - Fiorina tweets out some mobile uploads
8:30 p.m. - Ted Cruz drops out, Fiorina's VP campaign is quite obviously over
And that's all there was.
---
Image via Getty.