The fashions of The Real Housewives of New York are much like the city's famous Times Square: Expensive, loud and always a bit too much.

We first met the ladies and their apples back in March 2008 when Barack Obama was not our President, Miley Cyrus had yet to pose nude and the first (and what should have been the last) Sex and the City movie was two months from being released. I'm not sure that those things are highly relevant to the clothing these women wear, but there you have it.
If if was trying to compare the clothing of the Orange County housewives to the women in New York, I wouldn't have even bothered. The fun thing about New York is that very rarely do the women actually look bad. Rather, they all look like they're very into fashion and have spent a lot of money on their clothing, which necessarily means there are bound to be some misses. Plus, I feel like they're all skipping those sections in fashion magazines that tell you how to wear a specific trend if you're in your 30, 40s, 50s, etc so you don't roll up dressed like a teen.
Still, no matter how you or I feel about what the women choose to put on their bodies, one fact remains: We probably can't afford any of this shit.
G/O Media may get a commission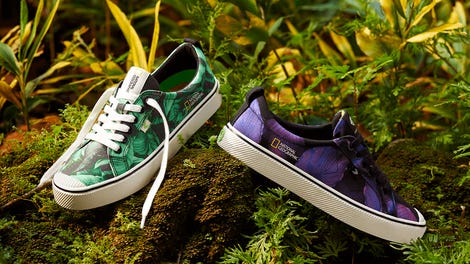 New New New
Cariuma + National Geographic
Look at all those fresh faces and Ramona and Jill in basically the same dress! Perhaps the most striking thing I learned as I took this journey is that—very surprisingly—many of Alex's fashion choices have aged much better than I thought they would. She and Simon always billed themselves as "fashion risk-takers" and obviously they both love attention, so half the time they were out on these New York streets looking crazy. While Alex of course still has her moments, I was expecting much worse.
The underlying issue here is that everything is just a bit too much. Jill's jacket wouldn't have been great, but it certainly would be much better without that county fair ribbon hanging from the side. A sequin dress over jeans? It's 2008, fine! But the lime green was unnecessary. If you're not a figure skater, Las Vegas showgirl or someone who takes New Years Eve way too seriously, there's little reason to ever wear lime green sequins.
Speaking of sequins, get ready to see a fuckload of sequins.
Kelly Bensimon and her stockpile of miniskirts joins us in the second season. I get why she loves a short skirt—she has great legs, she's tall and I imagine showing skin on the lower half of her body balances out her broad shoulders. But all I can think about is constantly moving around manhattan in a miniskirt and I don't feel great about it.
Kelly's clothing on this show serves as a great reminder to not follow trends too religiously. Looking back at her outfits, you can tell they were very cool and expensive at the time, but many look flat-out silly now.
Bethenny had a number of missteps which is out of the ordinary for her. Season 1 she looks dated, of course, but nothing is too offensive. I'm guessing it's because she was still relatively poor the first season so she was yet able to upgrade to the more ostentatious side of Saks.
I need to take a moment here and acknowledge the fact that Season 3 of the Real Housewives of New York might very well be the best season of any Real Housewives ever. At the very least, it's in the top three.
This season you have: Bethenny and Jill's falling out—which felt so real and actually emotional—Bethenny gets pregnant and engaged to Jason, Ramona and Mario renew their vows, we meet Sonja and SCARY ISLAND.
Re-watching the scary island episodes, can I tell you, I laughed and I laughed and I laughed. It was some of the best television I've ever seen in my life and I've rarely been happier aside from the sobering fact that Kelly most likely did have some sort of psychotic break, because lord above she was off her rocker. Also, I don't know that any housewife has come off as a bigger ass than Jill Zarin did this season.
God Cindy was boring wasn't she? She was clearly meant to fill the Bethenny hole and wow, that did not work. I went to her salon once for a wax because it was 2012 and I had a Groupon. Cindy was there but I can't remember a single detail beyond that because she and her salon were so goddamn boring. However, Cindy did have a sleek, understated style which largely keeps her out of this season's grilling.
Now that Ramona is happily divorced and renewed, I hope she burned all her satin gowns—especially the ones with the embellishments. Where is one even buying what I have to assume are very expensive embellished satin gowns in the year 2011? Sonja joins her BFF in experimenting with sequins and once you go down that road it's impossible to get off, apparently.
Luann and those damn necklaces are killing me but I think the biggest problem is the size. She's a tall, striking woman and my guess is that she uses these enormous necklaces for balance and maybe it's working but Jesus, at what cost? How is her neck not constantly in pain? When do her collarbones get a minute to breathe?
The funniest thing about Jill is that her clothes are certainly the tackiest but you also know they're probably the most expensive.
Also, Simon. Fucking Simon.
This was the big reboot season. We dropped Alex, Cindy (duh) and Jill and picked up Aviva, Carole and Heather.
Jesus, Aviva was annoying. She was maybe even more annoying than Kelly because Kelly was clearly nuts while Aviva only comes off as a lunatic about 35 percent of the time, meaning that she probably has control over it.
This is also the season where Sonja experiments with hats and headpieces and boy, that was a wild ride.
Carole and Heather make very few mistakes but Heather does decide to wear a denim blazer in the year 2012 and I'm including Carole's fingerless gloves for what I feel are obvious reasons.
The Real Housewives of pretty much every city do this thing that must be unique to either rich people or Real Housewives. Every time these gals go on a vacation to a location that is remotely different from their own, they feel some sort of urge to dress like the locals which is not something I've ever felt the need to commit to.
Sure, when you travel to Hawaii you might pull out a pattern you don't usually wear, but I'm not sure that if I went to Montana that I'd suddenly start dressing like a cowboy which is exactly what these women did.
Like, why? Ok, fine, you have a pair of cowboy boots in your closet that you never wear—bring the along! Montana is the place for cowboy boots. Carole was out here dressing like a glam version of someone from Little House on the Prairie while I don't know what in the dictionary of fucks Luann was thinking.
Sorry to keep harping on this but these goddamn cowboy costumes are even more dumb because you're staying in a hotel and being followed around by cameras and a large crew: Everybody knows you're not a local! It's fine! Just wear the denim you have in your closet and call it a day!
I would also like to point out that I actually love Sonja's mesh dress with the bikini underneath. But she wore that to what was essentially a family barbecue which, I mean, do you, but that's probably not a decision I would have made.
More so than the other seasons, all these clothes feel EXPENSIVE, if not especially chic. Every single one of these ladies is rich as hell and it certainly shows.
They're all sort of dressing like caricatures of fancy rich ladies and I sort of love it. Kristen's out here with enormous bolts around her neck. Dorinda never met a busy neckline she didn't love and Bethenny looks like Vladimir Putin's mistress.
Is this what I'd dress like if I was a rich 40-something New Yorker who appeared on weekly reality television show?
I will be back sometime soonish, my friends, with a quick look at the utter abomination that was the clothing from the first season of the Real Housewives of Potomac. Pray for me.
---
Images via Bravo.