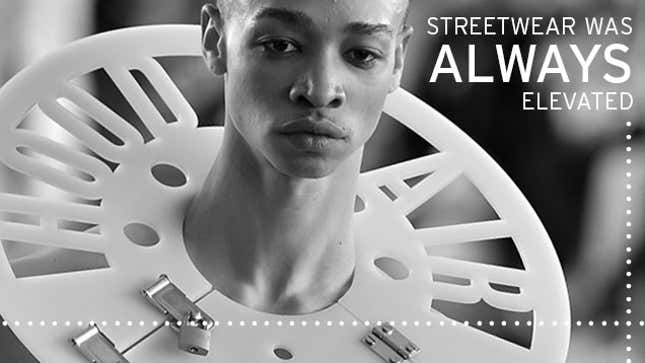 This week, the New York fashion label Hood by Air put on its second show this fashion month—a presentation in Paris after its celebrated runway in New York earlier this September, to be capped off by a third, as-yet-unnamed event in October. Showing at two fashion weeks in the same month is fairly boss, especially for a relatively new shop like Hood by Air. Started on a budget by New Yorker Shayne Oliver, the label has had a pretty meteoric rise over the past two years, particularly for a black designer (still far too rare in the establishment-anointed fashion world) who brings Harlem style to high-end streetwear. Let's just say it's a long way from showing your fashion week collection at Santos Party House to being nominated by Anna Wintour and them for a CFDA Prize.
Anna Wintour aside, a main reason for Hood by Air's ascent into the mainstream was the cachet it earned among rap fans and those generally unconcerned with niche New York fashion labels when A$AP Rocky, a friend of Oliver's, started repping the brand at every chance, both in song and on his person. On the 2012 song "Bath Salt," he rapped, "Ima stunna/Hood by Air for the summer/toast to the God and it cost nine hunna." By 2013, the proliferation of HBA shirts on fans had reached such critical mass that Rocky patted himself on the back in "Angels" with the lyric, "Hood by Air/I started that."
Enter: the fuccboi—loosely, a streetwear trend-humper who pairs items like Hood by Air logo tees with dropcrotch shorts over leather leggings and tops it off with a sheen of Rick Owens, figuratively more than literally. This in itself is not an offense, but it is the way the wearer does these things that leads to fuccboi'ism—a certain blend of awkwardness and thirst, combined with lots of disposable income (HBA t-shirts run around $200 on average) that translates into a need to be associated with the culture it inhabits, while perhaps not actually being of said culture. The now-stagnant tumblr Fuccboi of the Day, with its tagline "money doesn't buy style," is a decent visual primer on the phenomenon: mostly street pics of people wearing pricy streetwear labels seemingly just for the logo, the way status-conscious, often middle-class women in the Midwest covet handbags by Coach and Dooney & Burke. It's aspirational, but basic. It's funny, but depressing.
The concept of fuccboi became so associated with Hood by Air that Shayne Oliver titled the fashion film for his Fall 2014 collection "Fuccboi," featuring the designer himself gracefully voguing in a blonde wig. He was spoofing his line's association with the term but reclaiming it, too, alluding to the term's potential homophobic undertones and subverting them by making it all beautiful. He dedicated the film to "all the FUCCBOIs who shred the status quo with aggression and lush energies. Akeem Smith, Ashland Mines, Mykki Blanco, Raul de Nieves, Raul Lopez, Cassandra Ebony, Ian Isiah, Telfar Clemens," naming a laundry list of some of his friends, fellow designers, musicians, stylists, artists, voguers and general revolutionaries who subvert traditional notions of gender and sexuality.
The word "fuccboi" derives from the term "fuckboy," an effective dis for its withering cadence but, again, potentially homophobic depending on who is wielding it. I can't place the exact moment the term "fuckboy" came to prominence, but I vaguely remember hearing it a lot during the mid-'00s peak of the Harlem rap crew Dipset, whose leader Cam'ron was the main perpetrator of the awful term "no homo." In 2008, though, the WuTang affiliates Othorized F.A.M. released a song titled "Fuckboy," in which the term is deployed as a diminuitive with no homophobic agenda, meant to cut down opponents as babies playing baby games: "You hopscotch fuckboys all but miss," goes the chorus, "Say why everybody gotta mosh with the kid." Others define fuccbois as, simply, people who are fucking with their mental. There is no official etymology for the term fuckboy (or fuccboi), yet, but again, its intent is linked to who is saying it, and how.
The fuccboi wave has crested, having reached its peak (or nadir, whichever one prefers) sometime around summer 2013 (I knew it was really over when, last August, I saw a dude at a rap show wearing Hood by Air, Pyrex Vision, #Beentrill at the same damn time, an explosion of logos so absurd that, of course, translated into higher-end fuccboi'ism. Marc by Marc Jacobs' Fall 2014 line is an absurd distillation of that mess, and looks identical to everything sold in the V-Files shop ca. January 2013 at the same time, deeply influenced by visionary, culture-jamming logowear by designers like Heron Preston and 1992—bootlegs of the bootlegs, as it were.)
It may be effectively over, but the fuccboi legacy endures: there will always be awkwardly dressed people, as there will always be culture vultures, as there will always be streetwear hypebeasts. Fuccboi in the classical sense has even reached Middle America. As a prominent fuccboi documentarian, I can empirically report, from recent sightings in such far-flung locales as Las Vegas, Nevada, that the fuccboi is out in the wild.
But in one fell swoop, it was Shayne Oliver's reclamation of the term that deaded the traditional accepted notion of the fuccboi, and opened up its future of subversion. Oliver will certainly always sell the $200 statement t-shirt, popular as it is, but his recent collection suggests a clearer, more developed, and insurgent vision. He is always questioning and rejecting staid notions of gender, and not "elevating" streetwear so much as showing that streetwear was elevated all along. His work pays homage especially to the fly styles of black and brown kids in Harlem that he grew up with, and as. Put by legendary hip-hop stylist Dapper Dan, "Harlem likes a certain extravagance. The mainstay are items made out of silk, linen, leather, exotic skins, minks and furs. Those fineries determine your status. The only variation you'll find is among the young people for a period in their life, and as they graduate, they go right into that."
At Oliver's runway show this month, he fitted performance artist and HBA runway regular Boychild in a giant dog collar made of lucite—it evoked the cones vets place on the necks of injured pets as much as a giant doorknocker earring, the HBA logo in place of a name or astrological sign. If avant-garde concepts like that infiltrate the sartorial vocabulary of downtown trendhumpers, we'll be a better society. Oliver should trademark the term "fuccboi," and spin off into the sunset with it.
Image by Tara Jacoby and Getty