Why is newly infamous Invisible Children co-founder Jason Russell getting so much flack for attributing his recent public naked meltdown to "dehydration"? It may seem ridiculous to blame such erratic and disturbing actions on a lack of fluids, but Russell's a celebrity now, and dehydration has been the go-to excuse of the stars for decades. Hungover from a night of booze and drugs? Dehydration! Haven't eaten solid food in weeks? Dehydration! Slowly losing your mind thanks to the pressures of stardom and ever-present fear of failure? Dehydration! Here's a brief history of celebrities who have claimed to be parched.
The 1990s: It (Unsurprisingly) Started with the King of Pop
Michael Jackson is the first celebrity we could find on record who cancelled concerts in the name of "dehydration." That same year — 1993 — outlets reported that the superstar was addicted to prescription painkillers. (Janet Jackson also canceled a concert due to dehydration the following year, although her reasons for doing so are unclear.) In 1996, Martin Lawrence was arrested after allegedly brandishing a pistol and screaming at tourists on Ventura Boulevard in Los Angeles. He was then hospitalized for "exhaustion and dehydration," although it's believed some form of "psychotropic medication" was truly to blame. Three years later, Moesha went on hiatus when its star, Brandy, was treated for "dehydration." Later, she admitted that she had an eating disorder at the time. Paula Abdul also canceled some shows that year due to "dehydration," which she claimed was flu-related — but her history of eating disorders and prescription drug abuse makes one wonder if that was truly the case.
The 2000s: A Golden Age for Dehydration
Usher passed out in a recording studio from "dehydration" in 2000. But don't studios stock tons of baby water bottles? Mariah Carey was hospitalized for "dehydration" that year, and then again in 2001, after leaving rambling audio messages on her website — the singer later admitted that she was having "a physical and emotional breakdown" due to "Glitter"-induced stress. In 2006, Georgia Rule producer James G. Robinson sent Lindsay Lohan a letter calling her favorite excuse for not showing up to work — "dehydration," natch — "bogus," adding that her "ongoing all night heavy partying" was clearly the reason she wasn't feeling well. The next year, Kelly Rowland, Owen Wilson, Nicole Richie, Britney Spears, and Dave Chapelle all claimed that they were "dehydrated," although we now know that Wilson was suicidal, Richie was anorexic, and Britney Spears was only months away from shaving her head. In 2008, Kid Rock was hospitalized for "dehydration," even though everyone knew he had been up partying until dawn the night before. In 2009, Amy Winehouse collapsed at her St. Lucia villa — but only because she was "dehydrated," her camp said. We can only guess what was going on there.
G/O Media may get a commission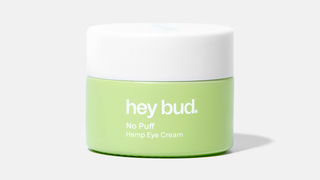 15% off
Hey Bud - No Puff Hemp Eye Cream
2010 - Present: Maybe It's Just Really Hot Out?
Any historian worth her salt will note that the Dehydration Era began its decline in 2010. Sure, Gene Simmons and Lady Gaga (twice!) were both hospitalized for "dehydration" that year. And Tom Jones, Loretta Lynn, Katy Perry, and Kings of Leon's Caleb Followill all suffered from "dehydration" in 2011. Nick Cannon was the first celeb to fall prey to "dehydration" this year, before the first week of 2012 had passed. But, wonder of wonders, all of these celebrities actually seemed dehydrated due to food poisoning, kidney issues, heat waves, and other legitimate factors. Weird.
Does Jason Russell's dehydration justification signify an upcoming Renaissance? Only time will tell. Until then, pray that your favorite celebrities keep large Evian bottles near their bodies at all times.
Image via NewYork88/Shutterstock.