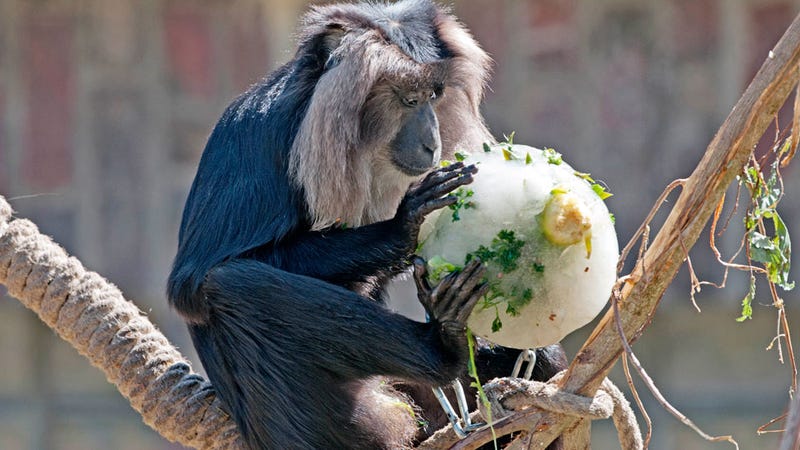 In zoos around the world, animals are keeping cool with specially-made popsicles, depending on their species. Whatever food is part of their diet is turned into a frozen treat: goats like fruit pops, lions and tigers eat "blood-sicles," polar bears eat "fish-sicles," and there are even "mice-sicles" for animals that like mice.
Nuka, an eight-year-old polar bear cools off with frozen fish at the Detroit Zoo.
Otters eat cricket pops at Zoo Atlanta.
A little baby goat goes after a fruit-sicle at Twycross Zoo in Leicestershire, England.
A lion licks a block of frozen blood at Taipei Zoo in Taiwan.
Xander, a sun bear living at Zoo Atlanta, paws at frozen fruit.
A gorilla at Zoo Atlanta contemplates his carrot-and-fruit pop.
Tigers at the Dallas Zoo are spoiled with this designer ice pop sculpture.
Pandas at the National Zoo in D.C. get a mixture of frozen fruit and bamboo.
A sloth bear cub at the Brookfield Zoo in Chicago snacks on frozen grapes and avocado.
A chimp at the Chattanooga Zoo in Tennessee keeps trim with Crystal Light pops.
Elephants at the Houston Zoo in Texas are treated to frozen watermelons.
A tiger at the Phoenix Zoo in Arizona chomps on frozen fish.
How zoos keep animals cool with ice lollies [BBC]
Detroit Zoo animals stay cool during heat wave [Oakland Press]
Zoo Animals Keep Cool in Scorching Heat [Weather.com]