In May, the U.S. Department of Education first released its list of 55 schools under federal investigation for mishandling sexual assault allegations. Since then, student activists and survivors have continued taking their college administrations to task for not giving a shit about their health, their safety and their right to an education in a non-hostile environment. Thus, in these past three months, the ED has started investigating an additional 21 colleges and universities.
Ana Gasteyer Satirizes the Girl Boss in 'American Auto'
As Tyler Kingkade reports at the Huffington Post, Kansas State, Johns Hopkins, Stony Brook and UCLA have all recently come under investigation. As of now, there's no information on whether the probe into UCLA was the result of a student complaint or the government's own initiative. Both Stony Brook and Kansas State have received individual complaints, but neither would comment on the status of the cases, citing privacy concerns (a favorite excuse of administrations looking to cover their asses).
With the Johns Hopkins case, though, more information is available. It's a sadly typical — and typically infuriating — story of institutional ineptitude and negligence, of a school intentionally and enormously failing a sexual assault survivor and the campus as a whole. According to CBS, Johns Hopkins failed to alert the student body about a "drug-facilitated gang rape" that took place at the Pi Kappa Alpha fraternity house in the spring of 2013. In punishment, though, the frat was suspended for an entire year!!!! That definitely showed them! Throw the book right at them, Johns Hopkins!
G/O Media may get a commission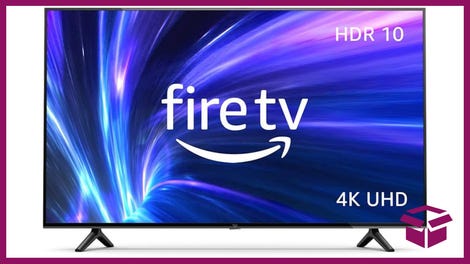 42% Off
Amazon Fire TV 50" 4K Smart TV
In an email obtained by CBS, Allison Boyle, the school's Title IX coordinator, sent an email to other administrators three months after the assault that read, "We are about 90 days out from the report, and I am growing increasingly concerned about our Title IX obligations as they relate to this case." Hmmm. Yeah. About that... (Under the Clery Act, schools are required to issue timely warnings about on-campus crimes, including crimes that occur in Greek housing.)
In addition, the complaint alleges that there is a "hostile education environment that exists on campus to discourage reporting." Specifically, one sexual assault survivor alleges that she attempted to report a sexual assault in 2009 and was roundly discouraged by the dean of student life, Susan Boswell. Boswell told her that, by participating in a sexual assault hearing, she would waive her right to report her assault to the police — which is blatantly untrue. Boswell also said that the "best case scenario" would involve switching classes or dorms because "no student has ever been expelled over sexual assault or had any annotation on their transcript." At least she was upfront about how little the school cares about keeping survivors safe?
The overwhelming ubiquity of inadequate responses to sexual assault and harassment is maddening. Hopefully all the recent media and governmental pressure being put on colleges will catalyze serious change; for now, though, I'm not at all surprised that the steady stream of federal complaints hasn't ceased or abated.
Image via Facebook.