As little Zuzu Bailey once said, "Every time a bell rings, an angel gets its wings." Apparently, there are a ton of bells ringing: nearly 70 percent of Americans believe that angels actually exist.
According to a recent Pew survey, 68% of Americans "either 'completely agree' or 'mostly agree' that angels (and demons) are active in this world." Colleen Hughes, editor of Angels on Earth told CBS News that she believes most people believe in angels "because too much stuff happens to us that we can't explain. There are coincidences that we're willing to chalk up to coincidence, and there's too much that we aren't, because we have this feeling that it was something else."
Tom Elliott believes in angels, though he's not sure that all angels are the winged, trumpeted variety. After promised tickets to a baseball game fell through, Elliot and his young son, who were attempting to carry on a family tradition shortly after the death of Elliott's father, found themselves out of luck until a stranger approached with two tickets. "He said, 'I've got 2 tickets for you here. I want your young son to see the game,' and he just handed us two tickets. And as we looked down at the tickets, he turned around and walked away. Before we could barely even say 'thank you.'"
Elliot and his son were able to see the game from the best seats in the house, and Elliot's son noted that one seat next to them was left empty; a sign, he believed, that his grandfather was with them. Was it an angel that delivered those tickets? Edward Grinnan, the editor of Guideposts, says it's all a matter of perception: "I mean, it's the interpretation of Tom and his son that really does matter. And to them, that man was an angel. He performed an angelic deed, if you will. And his actual origins I don't think are as relevant as the effect that that deed had on those two people."
As we saw in the comments of our Saturday Night Nostalgia post yesterday, several commenters were visited by "angels" who left gifts and holiday meals on their doorsteps. They didn't come from some otherworldly place, but from the same neighborhoods, same streets, same towns. Maybe it's easier to assign goodwill to "angels" when the world often makes it difficult for us to trust or see the goodness in one another, but you don't need wings and a halo to give someone a gift of kindness. You just have to have a heart.
G/O Media may get a commission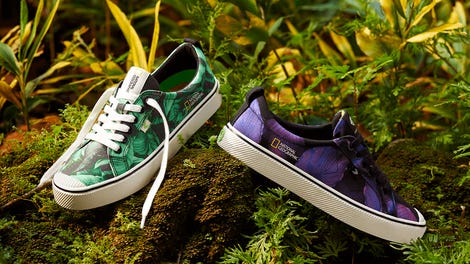 New New New
Cariuma + National Geographic
Do Angels Exist? [CBS News]