Priscilla's of Boston, the bankrupt national chain recently closed by parent company David's Bridal, is drawing ire for destroying all of its unsold wedding dresses — rather than donating or recycling them. Workers were photographed on December 30, the chain's last day of operation, painting red X's onto pristine dresses by designers including Vera Wang before tossing them in a dumpster.
In 2010, H&M sparked controversy when the New York Times reported that workers at the store destroyed unsold winter coats, hats, and gloves by slashing them with scissors, rather than donating them to organizations that clothe the homeless. People in Edina, Minnesota, where the Priscilla's Wedding Dress Massacre was documented, are similarly upset.
Pam Philipp, who runs Operation Glass Slipper, a Mendota Heights nonprofit that donates prom dresses to low-income girls and sells donated bridal gowns at low cost to raise money for their shoes and accessories, was incensed.

"It makes me so mad," she said. "They could have recycled them, they could have donated them. What makes me even madder is that I asked about that over a month ago when I found out they were closing and got no response."
Priscilla's told television reporters that it "has always donated quality bridal gowns to a variety of causes. We do not, however, donate unsaleable dresses that are damaged, soiled or in otherwise poor condition." But witnesses say the dresses were all apparently undamaged, aside from the red spraypaint. Most still had on their $4,000 and $6,000 price tags.
G/O Media may get a commission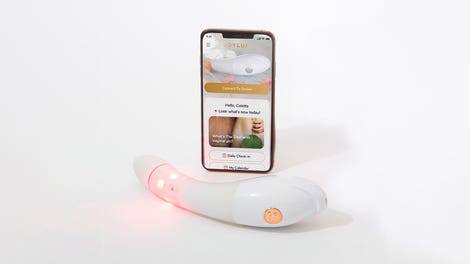 $50 Off
Joylux vFit Gold Device
The company told the Star Tribune a different story: that the destruction of unsold stock was a contractual requirement of the designers whose brands Priscilla's carried. Those agreements are intended to prevent the development of a secondary market in new clothing, for the very good reason that Vera Wang probably doesn't want her $6,000 wedding dresses turning up on eBay for $500 while they're still on the bridal boutique racks. (That risk of "brand dilution" was H&M's excuse, too.) But donating merchandise to charity is different than allowing it to fall into the hands of resellers. Charities who deal in these sorts of goods, like the New York Clothing Bank, which offered to take H&M's unsold merchandise, cut tags out of the clothing they handle and remove other brand identifiers. The fashion industry tolerates truly shocking amounts of waste throughout the supply chain, almost always for the sake of maintaining the purity of the "brand." But at what cost? It's sad to see such beautiful things go to waste when they could have given a low-income woman or a military bride-to-be a very nice surprise around the holidays.
Wedding Dresses Destroyed in Edina [KARE 11]
Edina Boutique Takes Heat For Trashing Gowns [Strib]