Newt Gingrich is still running for President, which means he's still kind of trying to ruin your life, which means it's still okay to make fun of him and his general weird history with women. Come one, come all, into the mirrored bedroom of Newt Gingrich, and his wife, Callista, who brushes his hair. If you dare.
The New Yorker's Ariel Levy paints a portrait of the couple that's intermittently hilarious, confusing, heartwarming, and worthy of a hearty slice of sideeye. The whole piece is worth a read, but if time isn't something you have, here are some highlights. Or lowlights.
A cartoon elephant that rhymes about American history saved the Gingrich campaign.
No, it wasn't an extended Walt Disney-style fever dream that kept Newt's Presidential hopes alive, it was Callista's friendly patriotic cartoon creation Ellis the Elephant. Callista penned a children's book called Sweet Land of Liberty starring Ellis and a bunch of rhymes about American history. The Gingriches toured to promote the book when it seemed as though Newt's aspirations were crumbling down around him. And that's how a cartoon ruined America.
Callista practically wipes Newt's ass
Newt says that if his wife wasn't with him on the campaign trail, no one would be around to fix his hair in the morning. That's a real thing one adult said about another adult.
G/O Media may get a commission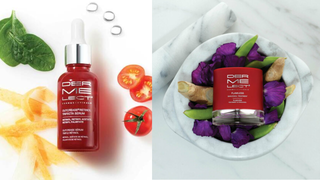 Save $19
Retinol Renewal Kit
Gingrich's third wife is 23 years younger than he is, but he describes her as "the grown up in the relationship." To be fair, though, he added that women are usually the grown ups in the relationships with the little boys they've agreed to love, honor, and obey. It's like all TV commercials are real.
Newt's first wife, his high school geometry teacher, saw him as "her little boy"
They were seven years apart in age, and Newt was 19 when they married. He fell in love with her when he was her student, and she taught him how to drive.
Former staffers say Callista demanded jewelry and Greek cruises
They probably don't get much less gruntled than the disgruntled people who worked for Newt Gingrich before he notoriously jetted off to Greece for a Mediterranean cruise last summer, so their statements should be taken with a grain or ten of salt. Still, one reported that Newt's plan was to cancel the cruise and focus on his campaign, and Callista objected so strongly that she threatened to leave Newt unless he followed through with the cruise plans. Another ex-staffer claims that she didn't want him to run for President at all, which is why he keeps having to buy her jewelry. Does buying jewelry work as a way to keep a lady quiet? I didn't realize this was a thing people did.
Newt fell asleep at Callista's Christmas Concert
Callista is a classically trained pianist and studied music in college. She still plays the French Horn in a community band and sings in a professional choir. Newt proudly attended the band's Christmas concert this holiday season, and proceeded to fall asleep at the beginning of "Silent Night."
Gingrich proposed to his second or third wives before his divorces were final
What a hopeless romantic. He left his first wife after meeting his second wife at a campaign event and asking her to marry him weeks later. He left that wife for Callista after conducting a 6 month affair with her while he was trying to impeach Bill Clinton for getting a blow job from a woman 20 years his junior. He asked Callista to marry him even before his second wife was aware that Newt wanted a divorce. Romance!
The Good Wife [New Yorker]