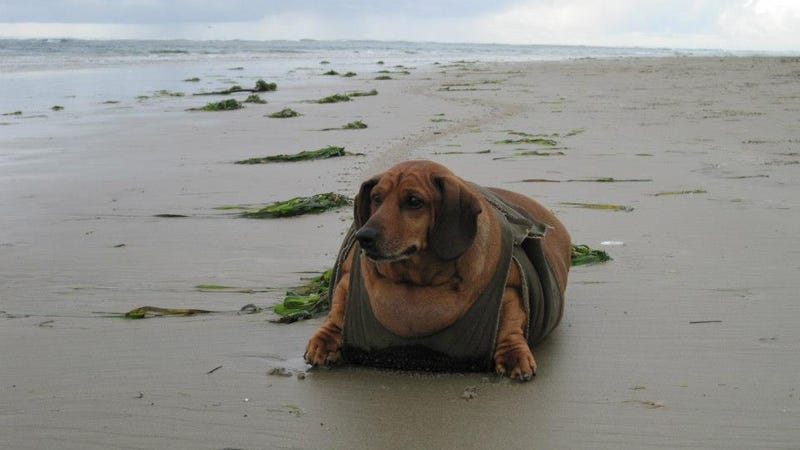 Back in September, we wrote about Obie, the poor, not-so-little dachshund that had been given up by his owners after reaching the whopping weight of 77 pounds (the maximum weight for the average dachshund is around 32 lbs). Through the Oregon Dachshund Rescue, Obie was placed under the care of former vet tech Nora Vanatta who began to successfully raise funds via PayPal and a Facebook group called Biggest Loser, Doxie Edition in order to pay for weight loss resources like a special diet and hydrotherapy to reduce the stress on his joints.
Something about Obie's struggle captured our nation's hearts and soon Vanatta and Obie found themselves traveling around the country for televised appearances and raking in the dough through supporters' donations. Now, however, the Oregon Dachshund Rescue is claiming that Vanatta is exploiting Obie for her own financial gain and have filed court papers claiming that "Vanatta is wrongfully holding Obie and exploiting the dog for the sensationalistic promotional value of its unusual obesity." Vanatta is denying the rescue's claims, telling ABC that Obie's money is being saved "because he may need to have surgery to have his excess skin removed." She adds, "You know, we just don't know where, what he's really going to need."
A judge will decide on Monday who will get custody of sweet chunky Obie, who, by the way, has already lost 15 lbs.
Obie the Overweight Dachshund at Center of Custody Battle [ABC]
Image via Facebook.