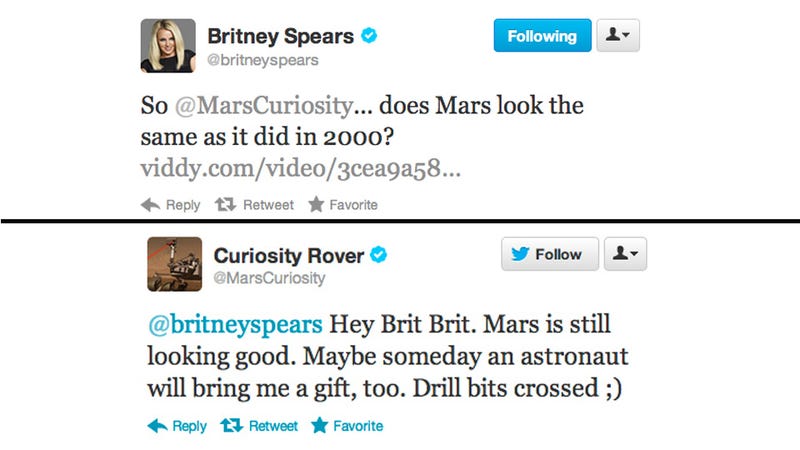 Late Tuesday evening, Britney Spears — maybe feeling lonely, maybe feeling playful — sent a pretty darling tweet to the Mars Curiosity Rover reading, "So @marscuriosity... does Mars look the same as it did in 2000?" What Brittles is referencing, of course, is her "Oops, I Did It Again" video which took place on the red planet and featured her in a very early-aughts latex jumpsuit being romanced by an astronaut.
Mars Curiosity Rover played it cool and waited until the next day to reply, but, when it did, the response was golden: "Hey Brit Brit. Mars is still looking good. Maybe someday an astronaut will bring me a gift, too. Drill bits crossed :)"
We can all agree — every last one of us — that this is one of the cutest Twitter exchanges that has ever occurred between a pop star and a robot, so what's the problem? The problem is that the Mars Curiosity Rover went and deleted the tweet! One second it was there and the next — POOF — gone, leaving behind a mere 2,886 retweets as the only evidence that it ever existed.
Curiosity has yet to cop its passive aggressive behavior, so we can only speculate as to its reasoning. Maybe it's more of an Xtina fan, maybe it felt like things were moving to fast or maybe — MAYBE — it has the heart of a robot.
UPDATED: The tweet is still there and all of our dreams are in tact. Instead of directing misguided anger towards the Mars Curiosity Rover, let's celebrate this beautiful interaction and revisit the "Oops, I Did It Again" video.
Britney Spears And Mars Curiosity Had An Adorable Exchange On Twitter [Buzzfeed]