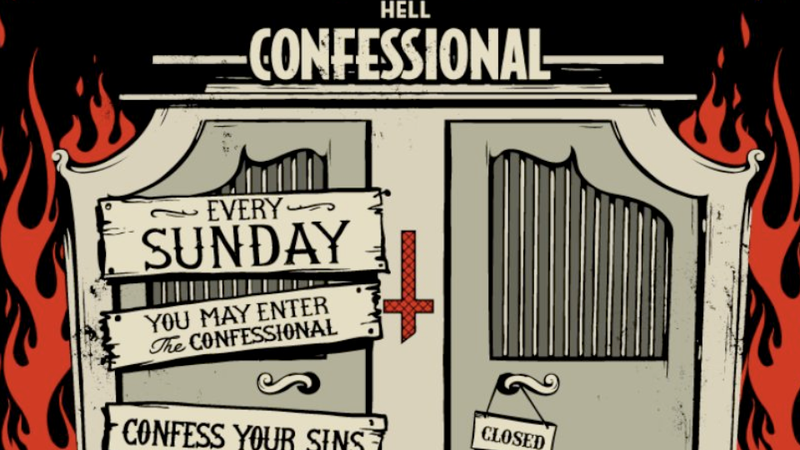 New Zealand's Hell Pizza offers a regular "confessional" competition in which customers try and best each other with their most scandalous stories. Last week, the company's Facebook page posted a douchey bro version of a trigger warning before the winning confession — "Don't read below if you're easily offended" — and then, predictably, proceeded to offend tons of people by LOLing over sexual assault:
"I once was at a party and saw this utter wanker, he passed out so I put a mask on and stuck my cock and balls into his mouth til he woke up. To this day he still has no idea who it was, and gets shit for it all the time."
Hundreds of people took to Facebook and Twitter to express how horrified they were that a person who forced oral sex on a sleeping stranger, "utter wanker" or otherwise, was receiving accolades from a pizza company.
It was only a matter of time before Hell Pizza released a lackluster apology:
Hey everyone, tonight we posted a fan's confession seeing it in the spirit of a prank between mates. Once we understood that offence had been taken and saw the bad light the post could be seen in we removed it, and we apologise to those offended. Lesson learned.
When will companies learn that only apologizing to "those offended" essentially means "We have no idea why you guys are being so uptight about this; will you stop overreacting and leave us alone now?"
Some people offered a better solution: apologize by helping out Wellington Rape Crisis, a local center which recently announced it was "chronically underfunded," needed $55,000 just to break even for the year, and would start closing its doors on Fridays because they could no longer afford to stay open full-time.
To its credit, Hell Pizza listened: the company updated its apology, acknowledged that "sexual assault is no joke," and said it would donate $10,000 to the center and match every donation made on the agency's fundraising page, dollar for dollar, until the end of August.
Wellington Rape Crisis manager Natalie Gousmett told the NZ Herald that the center only accepted the donation on the condition that Hell Pizza pay for sexual violence awareness and ethical bystander training — something its staffers clearly need, since they once also had the hilaaaaarious idea to include the message "You will marry a transgender" in something called "misfortune" cookies last year — and that she was pissed that the clinic has to rely on guilt money from idiots rather than the government.
"They've made a mistake in a way that treats sexual violence as a joke," she said. "I feel as an agency that works with survivors of sexual violence it's really troubling for us to be in this position of having to decide whether to have to accept money from a person who's done something like this when we should have consistent Government funding."
Rape Crisis accepts Hell Pizza offer [NZ Herald]