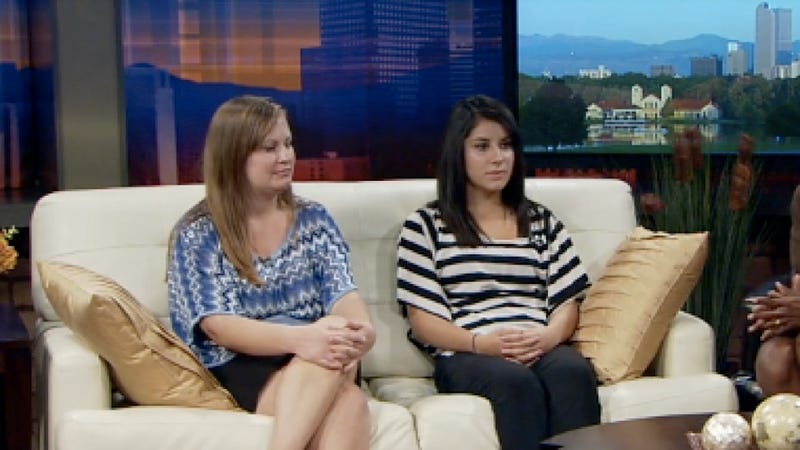 A new iteration of the teen pregnancy television genre is premiering tonight on TLC, and it might not be quite as exploitative as you'd otherwise imagine. High School Moms focuses on the lives of girls enrolled in Denver's Florence Crittenton High School, which, according to 9News, is a little unique in that it boasts both a doctor's office and a daycare center. Student-mother Amber Martinez, one of the teens featured on the TLC show, says that, unlike shows that maybe glamorize or sensationalize (ahem, MTV's Teen Mom) teenage pregnancy, High School Moms offers a more unvarnished view of the difficulties facing young mothers.
I believe the show is different because it is reality; it's real. We're not glamorizing pregnancy, we're just letting people know that teen pregnancy is hard. We do have struggles, but we can get through those struggles and continue our education. We do what we have to do to make our lives better for our kids.
Students like Martinez credit Florence Crittenton with helping them raise their kids while simultaneously earning a degree. She explains that the school "is dedicated to the students as they balance schoolwork, pregnancy," and that it provides a much-needed support structure for the student-mothers walking its halls. That's the school's aim, to ensure that young mothers get to finish their education, but TLC's aim is to entertain its audience, and though it's definitely possible for entertainment to have a real social or educational impact, the fascination with a show like Teen Mom or High School Mom lies in exploitation. That exploitation may be mutually beneficial in TLC's show, but that remains to be seen.
'High School Moms' to Premiere on Sunday [9News]