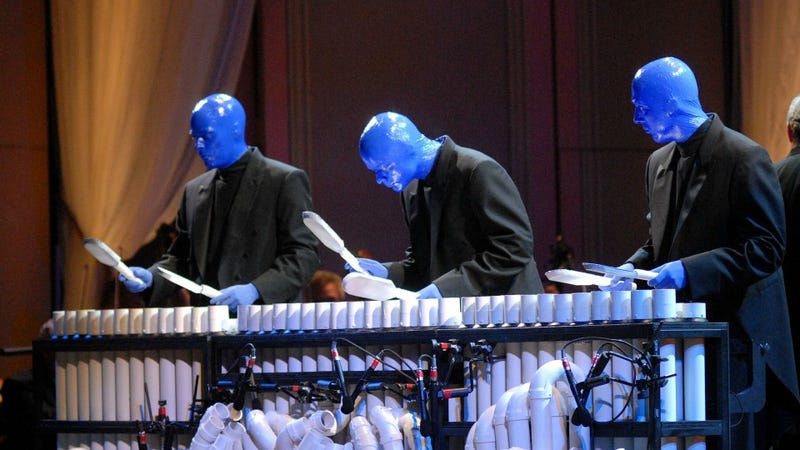 While the newest addition to the cast won't have to "blue" herself, the new casting call opens the doors for a female Blue Man in Las Vegas. This October, as the Blue Man Group begins its reincarnated show at the Monte Carlo after spending the last seven years at the Venetian, it will feature a new character called "Showbot."
On Thursday, co-founder Phil Stanton and producers held auditions for women between 5'3" and 5'5" to fill the role, described briefly in the casting call:
[In the new show] there will be a robot. If you're a female between 5'3" and 5'5" with a good sense of rhythm and some decent physical theater experience, you might just be that robot.
Stanton told Las Vegas Weekly that despite the gender descriptor in the name, the show's bottom line is constant evolution, and including a woman in the main cast is no exception:
It's assumed the Blue Man as a male character, but we don't even think of it as a male character... We think of it as androgynous, so we're always actively casting for women. In fact, recently we had a woman in training in Las Vegas, so maybe there will one in the Vegas show someday. It's definitely a possibility. There are a lot of women who meet the height requirement (5'10" to 6'1") to be a Blue Man.
Sorry you missed the audition, but there will probably be a reality competition show called The Bluest Wo/Man that you'll be able to throw your name in the hat for. I'll be over here in the gender-neutral majority of people who are kind of freaked out by the Blue Man Group. :D
'Blue Woman Group? Not quite, but ever-evolving Blue Man Group is increasingly androgynous' [Las Vegas Weekly]