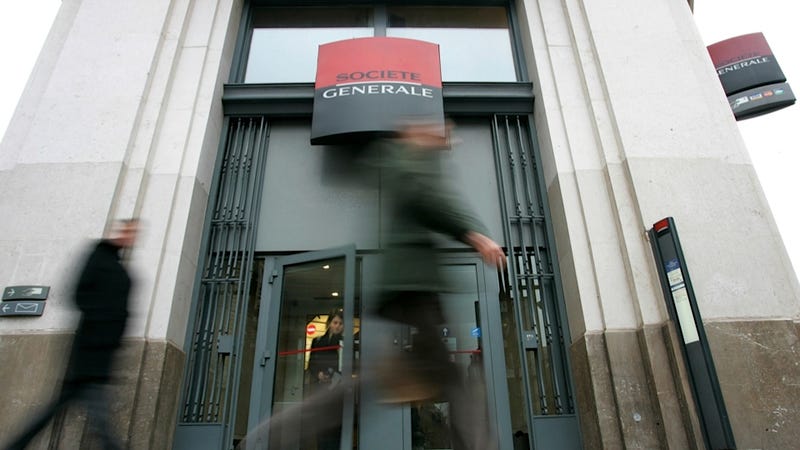 A French back in France called Societe Generale is offering a pink-and-gold "Pour Elle" bank card as part of a red hot summer deal aimed at all those helpless women who are always losing their handbags, locking themselves out of their apartments, or frying their electrical sockets with arcade-sized novelty pinball machines. The Paris-based lender promises to "simplify" women's lives with up to $250 of handbag insurance, as well as a dedicated hotline for up to two outbound handyman calls per year.
Many women, however, are far too busy thinking the SocGen gambit is pandering and sexist to appreciate the convenience of some of the "Pour Elle" card's benefits. One Parisian woman named Lys-Aelia Hart says she doesn't appreciate the bank singling women out as a relatively helpless and hapless group of forgetful people. "It's a little cheeky to promote both at the same time as 'female crises' that could arise," she told Reuters. "In my eyes, many men don't know how to deal with a serious electrical issue - on the contrary, they'd probably get killed."
A spokeswoman for SocGen says that all such such criticism c'est ridicule because the bank is handing out cards like hot crepes. She explained that the bank didn't find anything discriminatory about the cards (because why would a bank advertise that it's handing out discriminatory bank cards?) and added a little challenge for all the real French women to embrace their womanhood by getting a pink bank card: "Those who choose these cards are those who wish to adhere to their femininity." The spokeswoman added that at about five percent of the cardholders are men, just in case anyone was even thinking about accusing SocGen of sexism or anything.
French bank woos women with pink-and-gold card, handbag insurance [Reuters via MSNBC]