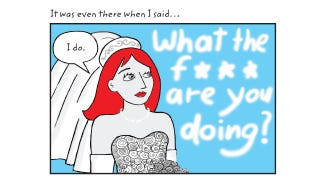 The dissolution of a marriage isn't normally LOL-material, but don't tell that to Barbara Slate, author of Getting Married and Other Mistakes. Slate's new semi-autobiographical graphic novel is a genuine, wry, and, yes, funny look at what happens when a woman caves under societal pressure to get hitched — and then realizes she should have trusted her own instincts from the get-go.
Those of you who spent hours huddled in a corner as a kid reading the exploits of a certain redheaded polyamorous perma-teen are probably already familiar with Slate's work. After all, she's responsible for authoring over 100 Betty & Veronica comics. Additionally, her many contributions to an oft male-dominated industry were recently profiled in the seminal book, A Century of Women Cartoonists.
In Getting Married and Other Mistakes, Slate does what she's known for doing best — telling oh-so-familiar stories about oh-so-familiar women in hilarious, graphic detail.
Head here to order your copy of Barbara Slate's Getting Married and Other Mistakes — available now from Other Press.