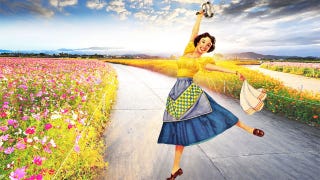 Today we dove headlong into the wet n' wild world of Cosmo sex tips, but wouldn't you know it, one hot tip slipped through the cracks. Thank God, Esmerelda Foofypants spelled it out for us:
Alternate between folding his penis into an origami owl, and trying to drown it like a mangy kitten in a bowl full of melted chocolate. Once the penis is sufficiently owl-shaped and/or conditioned to be terrified of chocolate, play loud Sousa marching music at it while slapping it rhythmically with a fly swatter. If these ministrations haven't brought your man to the highest heights of pleasure, finish off the sexy fun by super-gluing Fruit Loops to his shaft and mailing photos of your art project to Aunt Edna.

I tell you, I'm a goddamn whiz at coming up with helpful tips for snazzing up one's sex-life. Cosmo basically needs to hire me, like, right the hell now.
Submit nominations to the Comment of the Day tag page. Click on the comment's time stamp, and post the comment's URL to the forum along with the tag #cotd. (Replying to a comment with "#cotd" does not work.)
Use #trollpatrol to report comments that you feel the editors/mods should be aware of. Try not to respond to/approve/promote trollish comments in the threads — instead, just post the comment on the #trollpatrol page, the same way you'd post a comment on #groupthink or on the #cotd page, and the editors/mods will take care of it.
For meetups, use the meetup tag page!