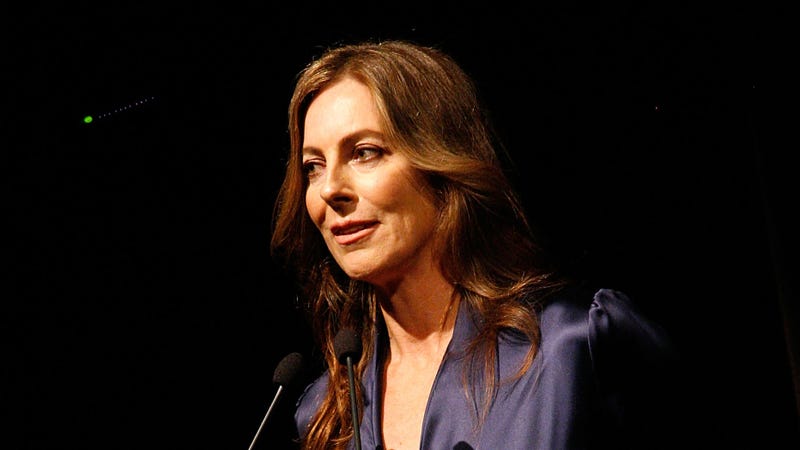 Kathryn Bigelow is so fucking cool. Not only did she direct Point Break ("Little hand says it's time to rock and roll") and win an Oscar for The Hurt Locker, she's now working on a film about the U.S. military's successful hunt for Osama bin Laden.
Melissa Silverstein of Women and Hollywood reports:
The film which is now called Zero Dark Thirty tells the story of the capture and killing of Osama Bin Laden. What is interesting is while this will clearly be a thriller with lots of war elements like The Hurt Locker, this film actually has female characters in it. The female cast members include Jessica Chastain, Jennifer Ehle and newly crowned Tony winner Nina Arianda. I have no idea if their parts are significant in any way but at least they exist in this film since there were no women in The Hurt Locker.
It's incredibly satisfying to see a female director not only venture into stereotypically "male" film genres (like action, war, and political drama), but to absolutely, sure-handedly kill it. Because, obviously, gendered genres are bullshit. But in an industry where only 5% of directors are female, we need as many Bigelows as we can get to prove that perception wrong.
And, as Indiewire points out, for Bigelow (our first female Best Director) to release a massive blockbuster in the wake of her Oscar win would certainly have an impact on the Academy, and the way we view female directors in general: "When you have a woman who has won an Oscar (which we have never had before) it will surely change the conversation."
I will be seeing the crap out of this movie.
Oscar Winner Kathryn Bigelow Nears Completion of Filming Zero Dark Thirty [Women And Hollywood]