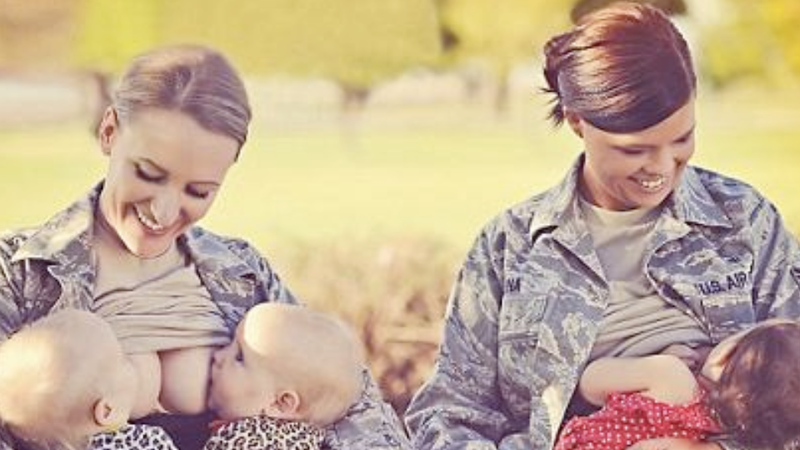 A few weeks ago, a photo of two Air Force women breastfeeding in uniform caused controversy when some argued that naturally feeding your baby while clad in camouflage is disrespectful to the military. (Women aren't allowed to breastfeed while in uniform, because breasts are weapons of mass destruction for reasons that aren't exactly clear.) It looks like the military won this battle: the woman who produced the shoot has been fired from her civilian job as an X-ray technician and the women in the picture have been "reprimanded" by their superiors for suggesting that mothers should have equal rights while fighting for their country.
The reason? There's a rule that military uniforms cannot be used to promote a product or cause. "The military photographs were NEVER meant to exploit, promote or to use the military uniform to help our group," Mom2Mom, a support group for breastfeeding on the military base, said on its Facebook page, even though the photos were meant to be released for National Breastfeeding Awareness Week in August.
Crystal Scott, Mom2Mom spokesperson and the brains behind the operation, said her employer told her she was canned thanks to all of the media attention. "It's sad because the media has portrayed Mom2Mom in such a positive light," Scott told Right this Minute. "I was doing something for the good of people. I feel like our organization is making positive changes for women all over the world. To be punished for something that was good was unfortunate."
Looks like we've living in the era of DADB: Don't Ask Don't Breastfeed.
UPDATE: Breastfeeding Photos Lead to Co-Founder's Firing [Fox News]