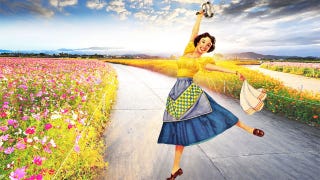 Today we discussed 53-year-old Madonna's nipple flashing incident, which prompted UrbanAchiever to give this excellent defense of the Mature Female Nipple:
You guys, you are totally underestimating the Power of the Mature Female Nipple!
It's done time pertly bouncing, it's done time seductively standing at attention, it's been tweaked, massaged, kissed, groped and unfairly ignored, it's done time turning a blind eye to onlookers, and many of them have done time nourishing young - and now, that Mature Female Nipple is a honeybadger of a body part - it doesn't give a shit. There is nothing you can do to the Nipple that it hasn't seen before, so now it just looks right back at you and says, "You got a problem with me, world - tell you what, it's your problem, not mine."

Under the pink steely stare of the Nipple, people are bound to lose their heads. I predict a trend of Mature Female Nipple exposure, ensuing mass hysteria and then possibly, just possibly: World Peace.

That is the Power of the Mature Female Nipple. No wonder the doubters who consign women to the junk heap once they are over 35 are so worried.
Submit nominations to the Comment of the Day tag page. Click on the comment's time stamp, and post the comment's URL to the forum along with the tag #cotd. (Replying to a comment with "#cotd" does not work.)
Use #trollpatrol to report comments that you feel the editors/mods should be aware of. Try not to respond to/approve/promote trollish comments in the threads — instead, just post the comment on the #trollpatrol page, the same way you'd post a comment on #groupthink or on the #cotd page, and the editors/mods will take care of it.
For meetups, use the meetup tag page!