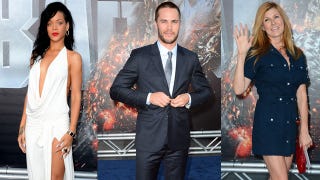 With Battleship having been directed by Friday Night Lights creator Peter Berg, and starring two of the show's cast members, Taylor Kitsch and Jesse Plemons, last night's "blue carpet" premiere brought out some other fan favorites of the show, there to support their FNL brethren.
Remember when Jennifer Lopez's green dress seemed like such a big deal for all the skin it showed? At least it had sleeves and a back. Now, something like what Rihanna is wearing seems kind of commonplace.
Falling in line with Rihanna, long, flow-y and white was the look of the night: Danielle Vasinova, Brooklyn Decker, and Molly Sims.
Landry, Vince, Jason Street.
Rigs!
After some recent bad fashion calls, Malin Ackerman is starting to really pull it together.
Candace Bailey works a different and horrible twist on the bandage dress. Leni Ito wears a traditional obi and robe. And Tami Taylor (Connie Britton) goes short and casual.