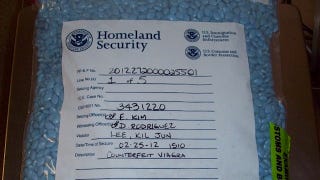 Ever wonder about the source of all that fake Viagra spammers try to sell you? Well, some of it — 40,000 pills to be exact — came through the luggage of one guy who was arrested in Los Angeles yesterday.
According to the AP, 71-year-old Kil Jun Lee arrived at LAX from South Korea on Feb. 25 with the following: 29,827 fake Viagra tablets, 8,993 fake Cialis pills, and 793 fake Levitras. They were all wrapped in foil and stashed in his luggage and golf bag, and their total worth was over $700,000. Somewhat hilariously, customs officials asked Lee if the meds were for him — he said that if he took all of them, he would die.
Lee was arrested Wednesday and charged with trafficking counterfeit goods. Trafficking ED pills is increasingly common — Viagra was the most faked medication last year, with 9.5 million fake tabs found. In one incident, a Sacramento man was arrested for selling a counterfeit version of the drug on the Internet — he got his supply from China, and incidentally, also grew weed (it's important to diversify). His at least had some of Viagra's active ingredient, but Pfizer claims that other batches of fake Viagra have contained printer ink, amphetamines, and drywall. Lee's drugs contained none of the active ingredients of actual ED drugs. Who knows what was in there — if he'd sampled his own product, he really might have died.
LA Man Arrested, 40,000 Fake Erectile Drugs Seized [AP, via ABC]