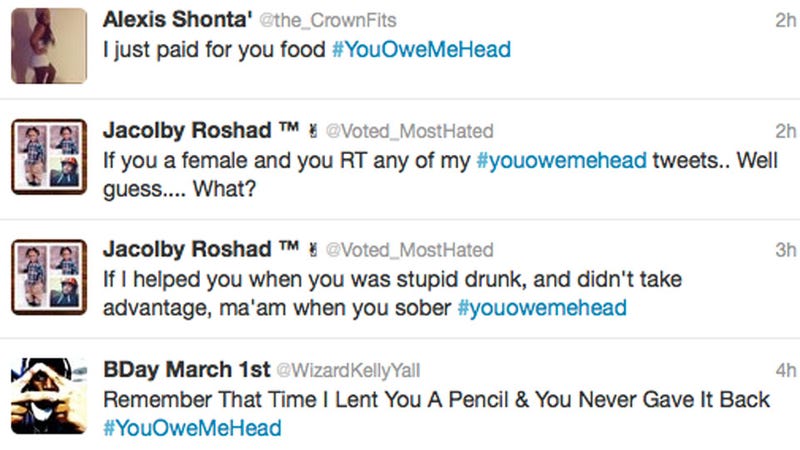 If I had a dollar for every time I got offended by a misogynistic Twitter hashtag, I wouldn't be writing this right now, because I'd be relaxing on my private yacht somewhere near the Maldives. Which is why I usually ignore the "trending" section of my Twitter account — I don't want to read depressing "jokes" about #howtobeatyourbitch or what have you. So, it's lovely to see Dr. Ruth putting a positive spin on today's #youowemehead hashtag: while other tweeters think, jokingly or otherwise, that they're owed bjs because "I just paid for you food" or "If I helped you when you was stupid drunk, and didn't take advantage, ma'am when you sober" or "Remember That Time I Lent You A Pencil & You Never Gave It Back", Dr. Ruth has an alternate agenda.
"Why not #iwanttogiveyouhead? Or #iwanttomakeyoucryoutwithpleasure?" she tweeted earlier today. "#youowemehead is filling Twitter world. I know many are funny but sex shouldn't be something that's owed but given freely, any position."
"At least one person on Twitter is preaching enthusiastic consent!," writes HyperVocal's Cooper Fleishman, who drew our attention to Dr. Ruth's earnest plight. "It may not be anyone who's sexually active, but it's someone people will listen to, tiny and elderly as she is. And someone has to teach kids why it's a good thing to have sex only with people who want to have sex with you."
That's right — and it's sure not gonna be Jacolby Roshad.
Dr. Ruth Gets In on the #youowemehead Twitter Trend [HyperVocal]