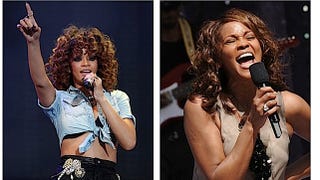 The earth over Whitney Houston's bejeweled corpse has hardly settled and already Clive Davis is trying to kick-start a biopic that could feature Rihanna as the late singer. Davis is reportedly eager to begin filming just as soon as he gets the pesky business about a script out of the way. Other Whitney-movie contenders are 47-year-old Vivica A. Fox and 22-year-old Jordin Sparks, with Will Smith's 11-year-old daughter Willow rumored to be in contention for a "young Whitney" role. Rihanna has summed up her feelings about singers playing singers in the cinema thusly:
I hate it when singers do singing movies all the time, because you can never look at them as anybody else. I want to play a character. My whole life is playing Rihanna; being a singer won't be a stretch for me.
So, she's up for it or what? Besides the hastiness of this entire enterprise, one other casting potentiality isn't sitting too well with me — who, gulp, will play Bobby Brown?
Rihanna shortlisted to play Whitney Houston [Daily Mail]