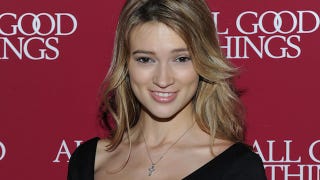 It's tempting to make a big deal out of the fact that 21-year-old model Kylie Bisutti is quitting her lingerie modeling gig because of her Christianity — it's a clickable headline, and it's one of the reasons she gave "Good Morning America" during an interview last week, in which she explained her decision not to renew her partnership with Victoria's Secret and instead look for more "wholesome" modeling jobs that "are always going to be honoring the Lord." This morning, she talked to CBS to further explain her actions.
Bisutti was refreshingly non-judgmental and sweet about her decision — she said her husband never pressured her into it and she didn't judge women who stayed in modeling. The explanation she gave to GMA about an incident with her 8-year-old cousin was also incredibly heart-warming:
I was doing my makeup in the mirror one day and she was watching me. She looked at me and was like, 'You know, I think I want to stop eating so I can look like you.' It just broke my heart because she looks up to me and I didn't want to be that type of person that she thought she had to do that to be beautiful.
Victoria's Secret model quits due to her faith [CBS]
Victoria's Secret Model Quits to Reserve Body 'for My Husband' [ABC News]