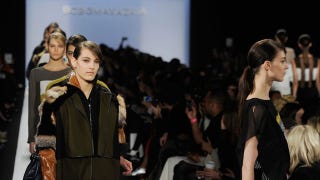 Max Azria seems to be feeling pretty '70s for fall, at least in his BCBG Max Azria collection (the first to walk of the three brands he presents at New York Fashion Week, the others being Hervé Leger by Max Azria and Max Azria). There were fluid, flared trousers, coats in camel and leather, and floaty caftans.

There were also very few models of color. Out of the show's 34 looks, one was given to a black model — Sharam Diniz — and one was given to an Asian model — Shu Pei Qin. Sigh. Some people never learn.

But although there's not a lot of soaring creativity to these designs, let's face it: most of these dresses are eminently wearable. They look breezy, stylish, and comfortable. The color-blocking is pretty and the transparent panels are sexy. Yes, very wearable — so long as you don't happen to need a bra.

I particularly liked the pleated dresses that, as the models walked, kicked open to reveal a contrasting colored fabric on the insides of the pleats.