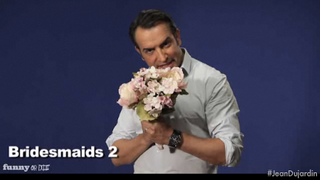 Just what you didn't know that your day needed: a video that combines your recommended daily allowance of your new boyfriend—The Artist's dreamy Jean Dujardin, guns, Muppets, and a hearty helping of laughter. Drop everything that isn't a baby and watch this.

Jean Dujardin's Villain Auditions from Jean Dujardin
The Funny or Die clip envisions the French actor following in the footsteps of other European actors who have attempted to segue their foreign stardom into stateside fame by trying to be cast as the villain in a big-budget American film. But Dujardin's overzealous agents have lined up auditions for him to play the bad guy in every upcoming film. Hilarity ensues.
Which one of the upcoming Dujardin films would you actually see? Shamefully, like Sarah Palin, my answer is "all of them." Even Transformers 4.