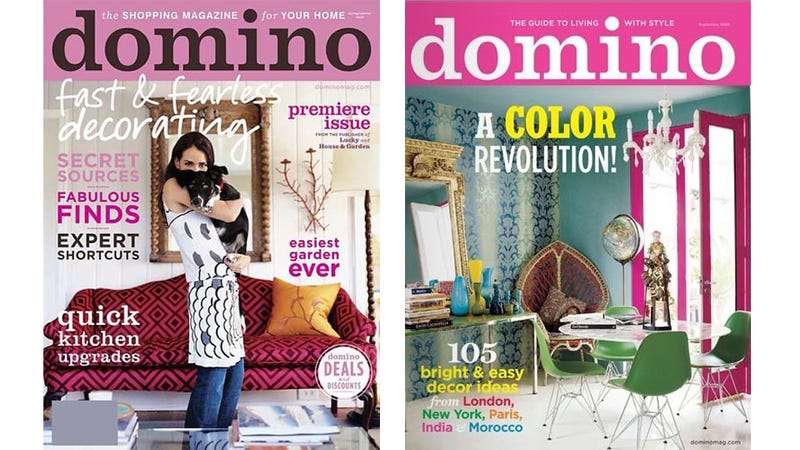 If you were one of the people who shed a shimmery Hollywood Regency tear when Domino folded in 2009, come on, get happy: A special "Quick Fixes" edition of Domino will show up on newsstands in April.
Be advised that this Quick Fixes project is not a new issue of Domino magazine. The publication will mix new stories with previously published content. As in, old. And instead of monthly, the mag will come out once this spring and then again in the fall. But Condé Nast Editorial Director Thomas J. Wallace tells the Los Angeles Times: "We love that there is still that Domino lover out there… The best thing about the magazine will remain the same — all the great ways that you can make a big difference without a huge amount of time and effort."
Sales of traditional ladymags — with a posed, airbrushed celebrity in professional hair and makeup and wearing a $10K designer gown — are down, but Domino is different: A shelter magazine that promotes little changes and relatively affordable solutions. While the ladymags shill low self-esteem and ridiculous Jimmy Choo shoes that cost more than three months rent (and you have little occasion to wear), Domino offers cozy rooms, colorful spaces, an aura of happy nesting. As we live through or are maybe kind of sort of getting over the recession, the idea of having a colorful, joyful, bright place to live seems more important than yet another Gwyneth Paltrow profile.
Domino magazine plans return to newsstands in April [LA Times]
Earlier:
Nobody Is Buying Ladymags These Days
Now That Domino Has Fallen, Will A New Mag Rise?