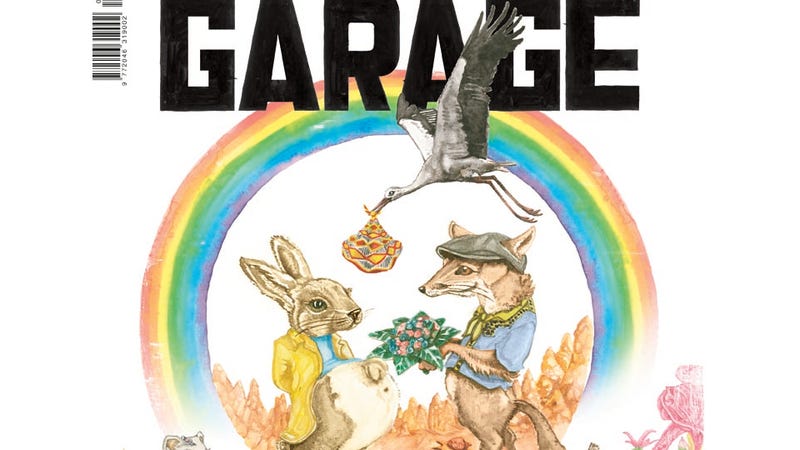 But there is a pregnant bunny. Significantly less suggestive than the last cover of the oversized art/fashion glossy, which featured [link NSFW] a butterfly sticker that peeled off to reveal a Damien Hirst butterfly tattoo on the labia majora of a young London woman, but in that bunny's pregnant belly there is still the hint of rabbit sex, so there's that.

In fact, the cover is an illustration done after Yayoi Kusama's 1968 staged "happening," Homosexual Wedding. The grooms here are Harry the Hare and Frederic the Fox, according to the press release. Interspecies gay marriage! With additional anatomically improbable male pregnancy! Pretty subversive for a drawing that looks like it could be in a children's book. Writes Dasha Zhukova in her editor's letter:
We have a completely new social landscape that expands Norman Rockwell's picturesque mid-century nuclear family into multiple-option domestic scenes: two moms, two dads, biological parent, birth parent, single parent, surrogate parent, egg donor, sperm donor. Men and women still marry, just not always one another. Gay couples have children. Exes and futures live together. It's not new, it's just neater.
Garage [Official Site]