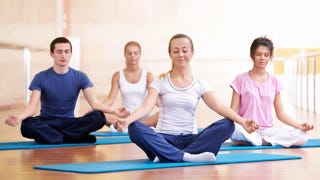 As far as first world problems go, air travel is one of the worst. When you are on the plane, there is no leg room, you have to negotiate armrest real estate with your seat partner and flight attendants give you the side eye when you simply ask for the warm chocolate cookie that you were promised (never forgive, never forget, Midwest Airlines). The frustration doesn't end once you reach the layover airport that you will probably be stuck at for hours. It costs $14 for a sandwich, the toilet constantly flushed while you're on it and no one, not travelers nor airport employees, is in a good mood.
A relief to these stresses might be on the way. San Francisco International Airport has recently installed a yoga studio— a simple space with chairs and mats— for all ticketed passengers and other airports might be following suit. Sure, it's a little bougie, but why fight something only meant to make a commonly terrible experience slightly better? And why stop there? Throw in a nice coffee spot, a movie theater and laser tag and you've got yourself a place where people want to be.
Insufferable Yoga Everywhere Trend Now Extends to Airports [The Atlantic Wire]
Image via Shutterstock.