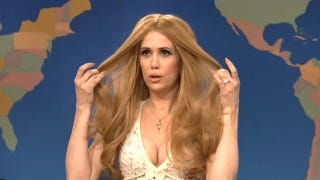 Saturday on SNL, Lana Del Rey returned to the show — in the form of Kristen Wiig (in a wig). As Del Rey, Wiig defended those who blasted the performance three weeks ago, saying: "Based on the public's response, I must have instead clubbed a baby seal while singing the Taliban national anthem." Lana Del Wig also pointed out that Sting, Cher, Elton John, Bob Dylan have all changed their names, and it's not like only the best of the best play SNL, since past musical guests include Bubba Sparxx, the Baha Men, and Shaggy.
---
---
While Wiig Del Rey touched her mouth, she didn't really get into the whole non-surgical lip-injection thing, which was another thing a lot of people have a problem with, because, you know, singers never change their appearance. Just think of Madonna, Cher, Michael Jackson, Britney Spears and Christina Aguilera. She didn't talk about the terrible crime of marketing herself as a retro-sexy object of the male gaze either — something else folks find fault with, though Katy Perry and Dita von Teese don't seem to draw the same ire.
Wiig Del Rey ended her segment on a thoughtful note: "In this age of dangerous school bullying, you have sent an important message: If you think someone is weird, you should criticize them as much as possible."
Meanwhile, the real Lana Del Rey has only this to add, in a tweet to fans:
Thank you for making the record #1 in 11 countries. Your sweet words have softened the effect of even the harshest reviews. I adore you.