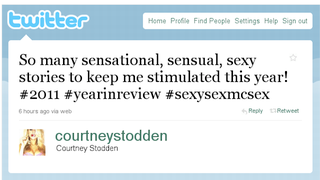 In May 2011, the world came to know Courtney Stodden, the 16-year-old who married 51-year-old former Lost actor Doug Hutchison, and we collectively wondered: why? By July, the two were shopping a reality TV series and Courtney had begun redefining Twitter histrionics with veritable word casseroles sticky with awkward adjectives teenagers think are sexy, and we collectively wondered: why not? It would only be fitting for her voice, the voice of an annum now lost to time, to summarize the most recently amassed year of collective human experience.

In February, Hosni Mubarak was ousted as Egypt's leader after popular uprisings across the country.

Japan suffered its most powerful earthquake ever on March 11.

Osama bin Laden was killed by members of the Navy Seal's Team 6 in early May.

Don't Ask, Don't Tell was finally repealed this year, allowing gay servicemembers to serve openly in the American armed forces.

On April 29, Prince William married Catherine Middleton.

In December, North Korean dictator Kim Jong Il died unexpectedly at age 70-ish.

This summer, Hurricane Irene swept up the East Coast, causing parts of New York City to be evacuated.

The Occupy Wall Street movement began in New York in September.

Congressman Anthony Weiner resigned after it was revealed that he was acting inappropriately with women he met over Twitter and other social networking sites.

Five people died, over a dozen were seriously injured, and thousands were arrested when disaffected London youth rioted in early August.

The Space Shuttle Atlantis made its final voyage this year.

The economy continued to stagnate this year, with unemployment remaining high and little new hiring in sight.

Kim Kardashian married Kris Humphries with great fanfare and limited facial expressions in August. 72 days later, in early November, the couple announced that they would divorce.
What wild, ferocious fantasies will 2012 bring? Only titillating time will tell. XOXO. ;)