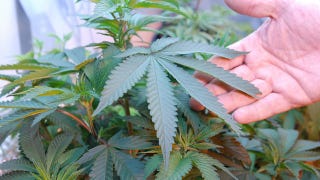 The city of Evanston, Illinois, home of the Northwestern University Wildcats, is about to get decidedly more chill. Last night, the city council approved a measure that would essentially decriminalize possession of small amounts of marijuana; if you're caught with under 10 grams of the stuff, instead of jailed, you'll be fined a small amount, patted on the head, and sent skipping off along your merry way.
WBEZ reports that the suburb just north of Chicago moved to decriminalize possession of small amounts of pot after a similar chill out saw success in Ann Arbor, Michigan. Those caught riding dirty will be fined between $50 and $500 and the charge won't go on their criminal record. Mayor Elizabeth Tisdahl says that in an economy where jobs are as scarce as they are, it doesn't seem fair for the government to permanently mar a citizen's good name by making a big deal out of a pot charge. Also, marijuana makes everything taste awesome and every person automatically three times as funny. What's not to love?
Evanston joins a few dozen other US cities that have eased up on enforcing marijuana laws, and several Chicago aldermen hope to introduce similar measures in the Windy City. Just in time for me to move away!
In the meantime, Northwestern University professors and Teaching Assistants, I hope you're ready to read papers absolutely riddled with references to jam bands.