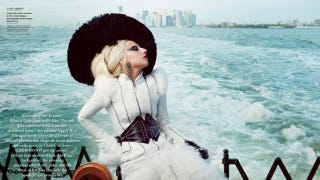 Apparently Lady Gaga is attracted to creative people, and it doesn't always end well. Sometimes, she tells Vanity Fair, they end up being jealous of her. And sometimes they're just mean: "I had a man say to me, 'You will die alone in a house bigger than you know, with all your money and hit records, and you will die alone.'" Caught in a bad romance! Plus: Gentlemen who try to make up for treating her crappily by asking her to marry them are shit outta luck:
Gaga says the weird thing is, after she's left a few people, they've asked her to marry them. "How fuckin' romantic, you asshole. Sure, pop a ring on my finger and make it all better. I can buy myself a fuckin' ring."
Guys, she's already engaged to the night, mmkay?