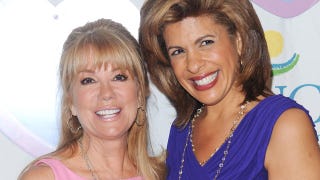 We can always rely on The New York Times to keep us updated on minor changes to our late night (or rather early morning) TV schedule, and today they're reporting that NBC is now running repeats of the fourth hour of the Today show (better known as Kathie Lee and Hoda Woman's Boozy Fun Time). NBC pulled Poker After Dark because the feds accused the show's sponsor of defrauding customers (ask your insomniac uncle with a gambling problem to explain) and since the network's executives are officially out of new ideas, they just swapped in a morning show and hoped no one would notice.
The Times declares:
The repeat is a testament to NBC's dependence on "Today" - already four hours each weekday - and to the endurance of the top-rated morning show. With the 2 a.m. repeat, "Today" now makes up fully 20 percent of NBC's weekday schedule.
Of course, it's also a testament to America's love for faux-news silliness. But then again, some late night TV viewers need a break from meaty fare like the rebroadcast of I Didn't Know I Was Pregnant and Kourtney & Kim Take New York.