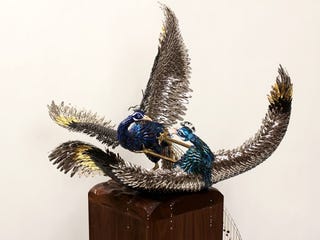 You know that feeling you get at 2 a.m. where you suddenly feel like you wanna build something out of things you'd find in your closet or under your bathroom sink? Well, Laurel Roth ran with that feeling.
And fortunately she's a bit more adept at handling "fake fingernails, nail polish, barrettes, false eyelashes, jewelry, walnut, and Swarovski crystals," than you or I.
Via Laurel's website:
I use art as a medium to examine biological ramifications of human behavior. My work juxtaposes traditional craft and artisanal techniques with non-traditional materials to examine mankind's drive to modify itself as well as its environment. By playing with the convergence of biology and product design to create new cultural artifacts, I try to question social constructions of need, design, and individual desire.
If you're still seeking some crafty inspiration, Roth also makes wooden hominid skulls, but those are probably harder to recreate out of q-tips and an old Lady Bic.
Incredible Peacocks Constructed from Beauty Supplies [ThisColossal]