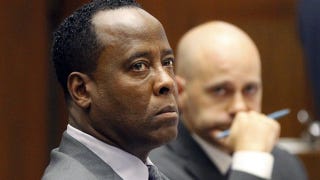 After a pre-trial circus and delay in announcement of of nearly American Idol results show proportions, the verdict is in: Dr. Conrad Murray was found guilty of manslaughter in the death of Michael Jackson and the ensuing birth of 5,000 mediocre pop stars' efforts to rechristen themselves "the new King of Pop." The former charge carries a maximum penalty of 4 years in prison and loss of his medical license, and the latter charge carries no criminal penalty, but it probably should.
A doctor being charged with the death of a patient is rare, and Murray's fate could easily influence the way that doctors treat their patients who are in pain.
Jackson died of acute propofol intoxication in 2009, and everyone in the entire US spent the ensuing two weeks either listening to Man in the Mirror or pointing out that Michael Jackson was accused of child molestation, sometimes both at the same time.