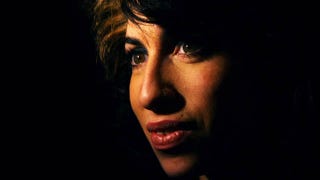 Amy Winehouse's death wasn't surprising, but I'm left strangely shocked. Her drug use and repeated attempts at rehab foreshadowed a grim outcome, but I guess I never thought about things that way.
For every one of her documented missteps and fuck-ups, I never once thought, "How is she still alive?" That felt defeatist to me. I just saw her as a person struggling the way a lot of artists — famous or otherwise — tend to struggle. Some of the greatest writers, musicians, actors, and artists have battled some unspeakable demons; many of them made it out alive and better for it. It's completely human to hope that an artist who affected you — as Winehouse did, certainly — will go on to do more, create more, and feel better, especially when they have so many years still ahead of them.
And, of course, we're going to hear about how Winehouse was 27 when she died today. She was the same age as a lot of other promising artists who passed away — Jim Morrison, Janis Joplin, Jimi Hendrix, Kurt Cobain — leaving us with only a few albums to remember them by. But at least we had those albums. Those artists had at least two huge, instant hit records — and several records that would go on to become huge hits — under their belt before they died at 27.
Not so much for Amy.
Though Winehouse's 2003 debut album, Frank, was eventually certified double platinum, it didn't get to that point until after she'd reached worldwide fame with 2006's Back to Black. The sales of the second album boosted that of her debut. It was Back to Black that was the big hit record, the one on which she made her name. Even if it wasn't chronologically her first album, it still felt like it was her first. It was her breakthrough.
Because of that, there was this unspoken assumption that she would make another record. She just had to. I believed it. A breakthrough is supposed to be the beginning.
No matter how many people discounted her or brushed her off as a drug-addled lost cause, there were just as many of us who hoped that Winehouse's best was yet to come. She was just getting started.
And yes, we watched her slur her way through live performances and get booed off-stage — but that didn't mean she was done for.
The way I saw it, this was just a really fucked-up, painful period in her life. She had tried, unsuccessfully, to get help quite a few times — but eventually, something would click and things would work out for her.
When Winehouse released a few promotional shots in March, it just reinforced the feelings of the believers. See? She's got something in the works, she's getting us ready for that next record, her big follow-up.
Which will never come.
It's small solace, but I'm still glad she was able to leave something behind — two records, one of which absolutely affected the pop landscape. Even if we've been denied whatever else she had up her sleeve, the optimist in me wagers that it would've been brilliant.