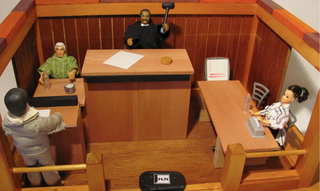 Just days after the discovery of the Casey Anthony crafts popping up on Etsy, the seller of a "one of a kind rendition" of the Casey Anthony trial has disappeared completely:
Thing is, we can find no sign that the diorama's seller, gooddeals99, ever existed on the artisan website. Maybe this bit of criminal Americana got the hook from the online artisan marketplace for its questionable taste. Alas, Etsy's privacy policies prevent the website from telling us whether they've yanked any product or seller ever (oh, we asked).
Break-out your dun dun DUUUUUN gifs, folks. It's mystery time.