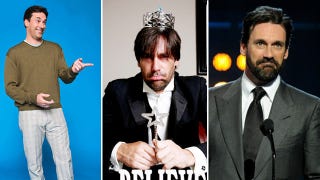 Those who love the goofy, funny, horrifically attractive Jon Hamm should immediately bookmark this website: Emotions With Jon Hamm. The tumblr collects the wide array of faces the actor has been caught on camera making — he's quite the expressive fellow.
The following are just a sample of our favorite Hamm poses — and if you like what you see you should check out the rest.
Earlier:
The Unadulterated Joy Of The Jon Hammeo
Jon Hamm Can't Believe Jon Hamm Is A Hottie
"Disgruntled Hamm."
"Drunken Hamm" and "Goofy Hamm."
"Satisfied Hamm" and "Thumbs Way Up Hamm."
"Bored At A Press Conference Hamm" and "There's Something In My Eye! Hamm."
"Giddy Like A Schoolgirl Hamm" and "Guilty Hamm."
"Affleck Hamm."
"Bookworm Hamm" and "Starbucks Hamm."
"What? Hamm" and "Mischievous Ham."